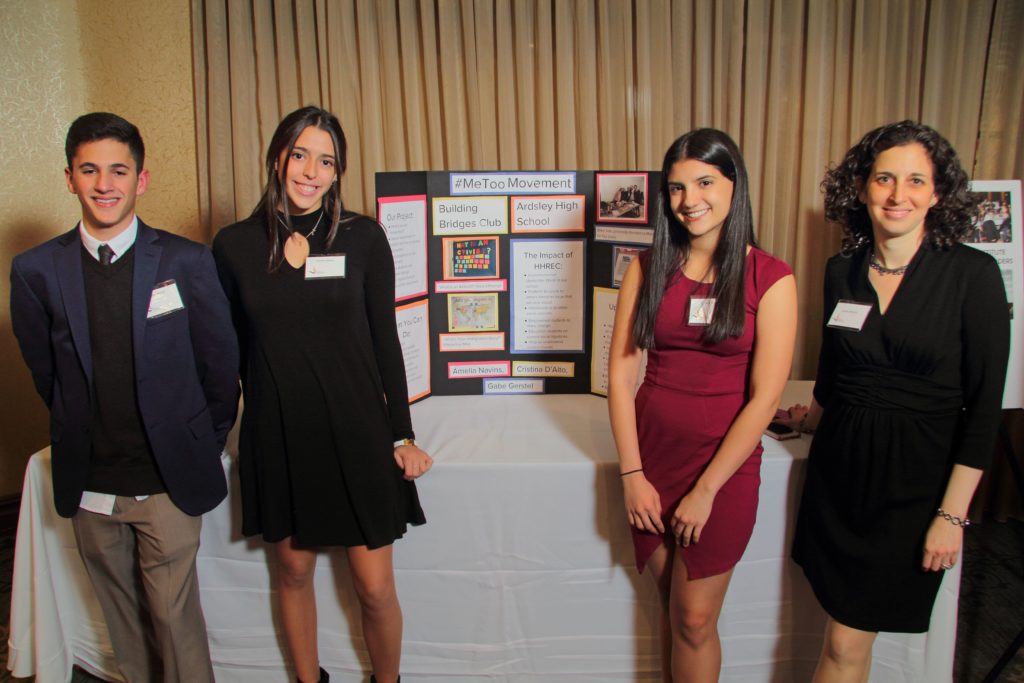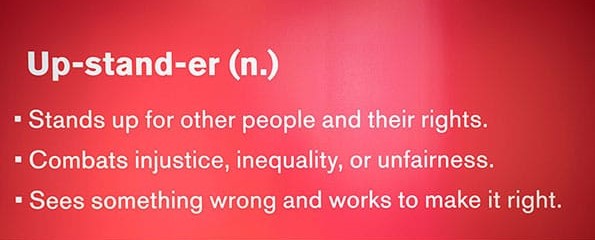 County Executive George Latimer officially declared May 22 - 26, 2019 as Upstander Week. This special week encouraged student activism and awareness by inspiring students to become "upstanders" (rather than bystanders) – and to take an active role in changing the world. It was a call to action for participating schools to get their communities involved by hosting an event to bring attention to a particular human rights issue.
How it Began:
The idea was born when a group of teachers who serve on the Educators Program Committee of the Holocaust and Human Rights Education Center (HHREC) decided that there should be a day for students to actively get their schools and communities involved in human rights awareness. The HHREC incorporated the plan into our annual Human Rights Institute for High School Student Leaders that is held  each March. Over 200 students from approximately 22 area high schools participated in our inaugural event on March 15, 2006 as they learned about a genocide taking place in Darfur, Sudan, from Rebecca Hamilton, founder of the Darfur Action Group at Harvard Law School. They also met for workshops to discuss what they and their schools could do to bring attention to the Darfur genocide and other pressing human rights issues.
Taking Part This Year:
Schools throughout Westchester County will be holding events leading up to and during Upstander Week to help reach area students in an effort to raise awareness of Human Rights Issues.  The ultimate goal of these activities is to encourage activism and make students part of the solution.
Ardsley High School
The students focused on Climate Change and will encourage everyone in the school to "Stand Up for the Environment" during Upstander Week. Activities included the following:
1. "Green" crafts during lunch periods such as making a tote bag from an old t-shirt.
2. Letter writing campaign to ban plastic bags, Styrofoam cups and/or plastic straws throughout Westchester County.
3. Bake sale with a petition for composting in Ardsley High School cafeteria.
4. Guess the number of bottle caps in the jar - winner gets a reusable water bottle.
Palisade Preparatory School 
The students who attended the Human Rights Institute on March 21 used what they learned to turn key to fellow sophomores.
All sophomores at the school were invited to attend the Digital Escape Room Event. Please see the video below.
Byram Hills High School
Students who participated in the Human Rights Institute presented a workshop on the United Nations Sustainable Development Goals for sixth graders at the middle school on their Power of One Day.  The sixth grade workshop participants all made a commitment to an action that was aligned with a Global Goal.
North Salem High School
The action plan implemented by the sophomores who attended this year's Human Rights Institute wanted to provide relief for victims of the California wildfires this past year. They reached out to faculty and staff within the district to see if anyone knew a specific family in need. Our research/networking led us to the North Valley Community Foundation  https://www.nvcf.org/nvcf-camp-fire-grants-made/ whose mission is to help fulfill support, champion, and provide services to unincorporated nonprofit projects that benefit the community. See flyer below distributed to students, teachers and community members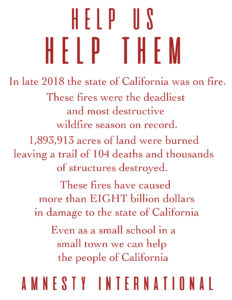 Ossining High School
Students who participated in the Human Rights Institute collected donations for Afya, a foundation that provides medical supplies to refugee camps around the world. They were able to fill 4 large boxes of goods to be sent to several refugee camps. https://afyafoundation.org/

Rocky Point High School
After participating in the workshop on College Campus Rights and Security, the sophomores decided that this was a human rights issue that would resonate with the entire student body. As a result they are in the process of preparing a full year (2019-2020) action plan which will raise awareness and propose possible solutions to this important issue.
Somers High School
Students decided to focus on prison reform on the national level. Students prepared a factsheet to share with their classmates and began a letter writing campaign to New York state representatives and senators.
2018 Upstander Week Activities
Maria Regina High School

After the Human Rights Institute, all tenth graders were required to select a Human Rights topic of their choice and present awareness through power point or video.  The videos were then uploaded to YouTube.   The results were truly amazing and all the students did a phenomenal job.  What follows is the video of one group, student participants of the Institute.  These students changed the topic of sexual assault on college campuses, which was one of the workshops presented at the Institute, to sexual assault of minors.  One student in the group had been sexually assaulted as a little girl and always felt ashamed, dirty, different and unable to speak about her experience.  She was never able to heal despite much counseling and therapy.  Through the making of the video she was finally able to regain her voice and encourage others to not be afraid to say something.  On April 21, 2018 a youth rally was held at the Westchester County Center.  At that rally, one of the creators of the video, requested to speak to fellow high school students.  She shared a short version of her story and told students to not be afraid to speak out.  She reminded them they have a voice and to stand up for their dignity and the dignity of others.  She received applause along with a standing ovation.  She regained her voice and felt free, no longer silenced by her past.  A momentum is building and it is wonderful to watch the students come alive as they heal and bring healing to others.  This is an example of the powerful effect the Human Rights Institute has had on our tenth graders.
#Say Something Project - https://www.youtube.com/watch?v=7OmEqMVowGg
Palisade Preparatory School – please see flyer below
APRIL GENOCIDE PREVENTION MONTH
Ardsley High School

The students' theme this year is student activism.  They will be focusing on gun violence/March for Our Lives and the #MeToo movement. Here's what we have planned for Upstander Week:
Monday, 5/21: Video explaining our schedule for the week and MeToo presentations
Social studies teachers show videos in classes
MeToo presentations (given by students who presented at HHREC and other club members) begin in social studies classes
Tuesday, 5/22: Bake sale
Sell KIND bars and baked goods
Ballot box so people vote on charity: March for Our Lives or Timesup
Wednesday, 5/23:  Movie night (Wonderwoman) and MeToo presentations continue in social    studies classes
Thursday, 5/24: Write letters/postcards about gun control and gender equality
Friday, 5/25: Post-it Prompt and Candy in a Jar Guessing Game
Post-it prompt
What does it mean to be an activist?
Must contribute to prompt to play candy game
On March 24, several Ardsley students organized the March for Our Lives Day of Action for their community.
Briarcliff High School
Briarcliff students are focusing their efforts on DACA.  They made signs which are on display throughout the building.  They created a "phone bot" in which people can text their senator and representatives urging them to support DACA.  Students also held a bake sale to raise money for the ACLU and their defense of DACA recipients.
Byram Hills High School
Students who participated in the Human Rights Institute presented a workshop on the United Nations Sustainable Development Goals for sixth graders at the middle school on their Power of One Day.  The sixth grade workshop participants all made a commitment to an action that was aligned with a Global Goal.
German International School of New York
Gratitude Tree – Help students discover the wonderful aspects of their lives.
During the week of May 21st, students will write one thing they have to be grateful for on a leaf and attach it to a bare tree.  We will also be doing a major bake sale for refugee children.  Prior to May 21s, we will project a video with various students stating what they are grateful for to help students form ideas for his or her leaf.
North Salem High School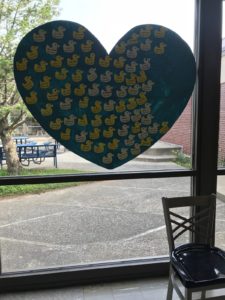 North Salem sophomores who attended the Human Rights Institute left inspired by the keynote speaker, Scarlett Lewis, and embraced the message and goals of the Jesse Lewis Choose Love Movement.  An Action Plan was designed to support an organization that the students felt was most worthwhile.  They started by asking students and faculty to sign a pledge of love, where their name was recorded on a duck, the symbol of the Choose Love Movement.  These ducks were fastened to a large blue heart to display the names of students and faculty that pledged to spread love in the school.  With that, people who pledged were asked to make a minimum donation of $1.  Another group of students created a magnet embodying the message of the organization.  They will use this money to purchase magnets and place them around the school to spread the Choose Love message.  It is their hope that the presence of these magnets will be a consistent reminder for students to always choose kindness.
Ossining High School
Students who participated in the Human Rights Institute wanted to do a funding raiser to promote education for girls around the world.  They decided to send the funds they collected to the Susheela Memorial Rishi UBR Vidya Mandir School for girls in India.
Pleasantville High School
Pleasantville students tied their Upstander's Day to a week long wellness week.  Their theme was mental health and while they handed out ice cream during lunch periods, the students handed out positive notes and affirmations.  It was a great idea and everyone smiled to themselves when they read their positive note.  The notes reminded teachers and students to be kind, to smile at others and that beauty comes from within.
Ridgefield High School
Students planned and participated in Man's Inhumanity to Man Assembly Program for the entire school.  Judith Altmann, Holocaust survivor, and David Trust, Rwandan Genocide survivor, addressed the students.  The sophomores who participated in the Human Rights Institute will also be creating a pledge activity in the student center during the first week of June.  They will ask students to write on a sticky not one thing they can do to be an upstander or standup to injustice.  These sticky notes will then be placed on a wall to form the word ALLY.
Rocky Point High School
Students will be inviting Scarlet Lewis, Founder and Chief Executive Office of the Jesse Lewis Choose Love Foundation to come to their high school early in the 2018-2019 academic year with the hope of using social emotional learning in their building.  The students will also be doing a fundraiser for the Choose Love Movement.
Somers High School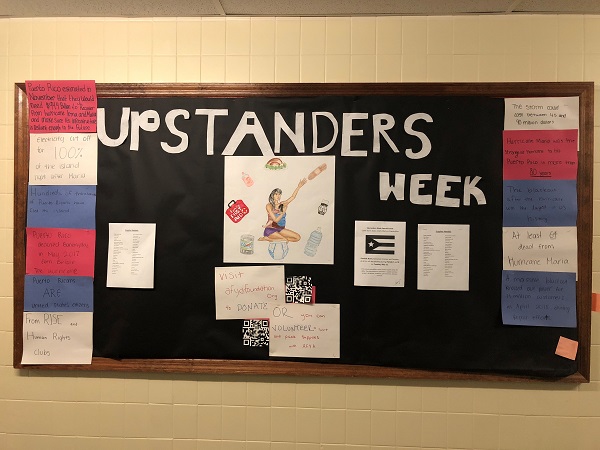 Students decided to focus on hurricane relief efforts in Puerto Rico. They created a board with information about what is going on, started a collection for the Afya Foundation (Afya, which means "good health" in Swahili seeks to spread "Good Health Through Giving," and does so by providing medical supplies, consumables, sustainable equipment, and community outreach supplies to international health clinics) and had Danielle Boutin, Afya Executive Director and Neil Ginsburg Afya representative speak to our school about their cause and supplies needed.
2017 Upstander Week Activities
Ardsley High School
Ardsley's Building Bridges club is organizing a full week of activities for Upstander Week.
May 22 - Social Studies teachers will show a short video produced by members of Building Bridges; the video will include the following:
1. What is an upstander?
2. How can you be an upstander?
3. What is Upstander Week and what are we doing at Ardsley High School
4. What is AFYA? (http://www.afyafoundation.org), a Westchester based organization that collects medical supplies for refugee camps, and why is Building Bridges giving half of its bake sale and movie night proceeds to AFYA?
*Members of Building Bridges will be outside the library after school with the prompt:  What is an Upstander?  They will ask students to answer the prompt on post-its which will be posted in a glass case outside the library.
May 23 - Bake sale during lunch and after school; half of the proceeds will go to AFYA
May 24 - Who is an Upstander? Contest:  Students will be asked to match upstanders with the issues they are fighting for/against. Prizes will be awarded.
May 25 - School wide Activity
1. Wear sports apparel to school that represents you and your heritages
2. Zootopia movie night in library for all Ardsley High students and 8th graders from Ardsley Middle School.  Half of proceeds will go to Afya.  Students will provide information about AFYA and explain how Ardsley High students can be upstanders.
May 26 - School Supply Drive Kickoff - contest between all grades which ends on June 8.
Blind Brook High School
The Blind Brook Human Rights Council started a pen drive which will continue through the end of the school year to collect pens for AFYA.  The students have been getting the word out by providing morning announcements and placing boxes with red tape around the school to bring attention to the effort.
Briarcliff High School
Briarcliff's Upstander Week Activity is to bring attention to the problem of the LGBTQ community both with in the United States and worldwide, specifically looking at Chechnya.  Students are being encouraged to become Global Citizens.
www.globalcitizen.org - This organization focuses on many issues and it allows the student to support an action they are passionate about.
The Masters School
Students who attend this year's Human Rights Institute will be working with students in the middle school to promote the concept of being an upstander rather than a bystander.
May 22 - Students will introduce and show the video, BystanderRevolution, speak about their experience at the Institute and invite middle school students to sign a pledge poster to be an upstander.
Students will monitor the actions of middle school students over the remainder of the school year.
North Salem High School
North Salem's Amnesty International club has put together a school-wide program encouraging students to take action.  Through their work at this year's Human Rights Institute for High School Student Leaders, students decided to advocate and support the goals of the AFYA Foundation, a not-for-profit organization located in Yonkers, New York, which sends medical and humanitarian supplies to help people in Haiti, African nations and the Syrian refugees in Europe.  The students recognized how certain items that we have in excess, and/or items that are often tossed aside and wasted can easily be shared with those in need making a tremendous difference.  Their goal is not only to spread awareness about the work of AFYA but to successfully coordinate a drive for such items, so as to make a positive change in the lives of others.
It is their hope that the entire school community will take part in Upstander Week by posting the following flyers in every room, indicating what AFYA needs, so as to support the drive.
http://afyafoundation.org/wp-content/uploads/2015/02/HelpUsHelpHaiti.pdf
http://afyafoundation.org/webassets/Afya_School_Supply_Flyer.pdf
Ossining High School
Students collected school supplies, diapers, toiletries, clothing and first aid medical supplies for AFYA (an organization that collects medical supplies for refugee camps around the world).
May 22 - Neil Ginsberg (retired teacher and activist) and Sarah Schuyer (Chief of Operations for AFYA) will do a presentation in the high school library.
May 23 - Ahed Festuk (Syrian refugee and activist) and Andrew Courtney (retired teacher and activist) will do a presentation on the Syrian refugee crisis in the high school library.
Pelham Memorial High School
Pelham students presented their initiative to their principal and members of the faculty at a meeting.  The group has been collecting pens for AFYA.  This initiative will continue through the start of the 2017-2018 school year.
Rocky Point High School
Rocky Point students are busy organizing a fundraising drive for AFYA which will continue in the 2017-2018 school year.  In addition, they will also focus on New York State's lack of medical funding and supplies.
2016 Upstander Week Activities
Blind Brook High School
The newly formed Blind Brook Human Rights Club is designing a scavenger hunt that will take place during Upstander Week. Stationed around the school will be Q.R. codes that link to articles and videos related to human rights violations.  For instance, at the water fountain, they will have a video on the Flint Water Crisis and by the lockers will be a link to an article on homelessness in Westchester County.  At the end, students will complete a survey on the information found in the articles and videos.  Our goal this year is to bring awareness to various global concerns and get students talking about the issues. They are also in the process of organizing a 5K walk for next year to raise money.
Edgemont High School
Students at Edgemont have decided to focus their attention on the topic of child labor and cacao production in Ghana and Ivory Coast. The five pairs of students from each of the tenth grade global history classes will create poster board presentations, each focusing on one component of this human rights problem.  The projects will be displayed in a large showcase in an attempt to create awareness and generate dialogue in the school.
French American School New York
The French American School students have decided to help victims of domestic violence in our region.  They will be working with My Sister's Place, putting together "Birthday Boxes" for the children.  This will be an entire school effort for both the middle and high school grades.  They will be collecting shoe boxes and having bake sales to raise money to fill the boxes. The "Birthday Boxes" will then be given to My Sister's Place.
Iona Prep
Students have selected the topic of homelessness in Westchester County.  Students will be appearing each morning on the school's video announcements, and will have a table to engage students and provide information at lunchtime each day of the week.  They will also be raising funds for a local organization which works directly with the homeless in Westchester.
New Rochelle High School
Students are working to provide a home for refugees from the world's newest nation, war-torn South Sudan.  After hosting a presentation in April by Nya Chambang, President of the Thon Met African Peace Foundation and former refugee from South Sudan, the New Rochelle High School Human Rights Coalition has partnered with Thon Met and California Pizza Kitchen. If a person brings a flyer to California Pizza Kitchen in Scarsdale, Stamford, or on Park Ave. South on Friday or Saturday (May 13, 14), the restaurant will donate 20% of the check to  help refugees from South Sudan. The goal is to raise sufficient funds to build a home for refugees in the neighboring nation of Ethiopia. The cost of a home is a remarkably modest $2000.
Ossining High School
Ossining will be hosting a presentation by Andrew Courtney, an exhibiting artist, teacher and an activist for social change.  His art and documentary photography has been exhibited internationally, across the United States and in local galleries.  Courtney taught Fine Arts at Woodlands High School for a career.  For the past 25 years he has been doing human rights work in the Middle East, particularly in the Palestine Territories, Lebanon, Syria, and Jordan.  The primary focus of his work continues to be refugee issues that extend from the 1948 "Palestinian Nakba" to today's Syrian refugee crisis.  He will be speaking at Ossining High School on Tuesday, May 24.  There will be a Q & A session after Mr. Courtney's presentation.  During the remainder of Upstander Week, the students will be collecting household items such as cutlery, bedding, plates, cups, pots, pans, etc. for newly displaced Syrian refugees.  These donations will be given to the nearest donation center, the Integrated Refugee and Immigrant Services (IRIS) , in New Haven, Connecticut.  More information on IRIS can be found at http://www.irisct.org/refugees.html.
Pelham Memorial High School
Students who attended the Human Rights Institute have officially created a human rights club for their high school.  They are now organizing a fundraiser/awareness campaign about food insecurity in Westchester County.  The student who organizes the best campaign will be given the opportunity to make the morning announcements on Friday of Upstander Week.  The club meets once a week and gives presentations on a different topic each week.
Rocky Point High School
The Rocky Point Human Rights Club has been given a large showcase to display artwork promoting different human rights violations throughout the school year. For 2015-2016 the showcase was used to show awareness for the issue of human trafficking.  For Upstander Week this year the students have decided to cover the showcase with paper and have a "big reveal" on what students should expect for the 2016-2017 school year.  The paper will be covered with quotes to get the students to think about what may be inside.  The showcase will be unveiled on Friday, May 27.  The students have chosen to promote awareness of the lack of education in our country as well as in other countries.  In September, the students will start to collect supplies and books as well as monetary donations.  The students are in the process of researching book for book programs (such as Tom's shoes) to send the donations.
Solomon Schechter School
The Human Rights Club will hold activities on May 13, 16, 17 and 19.  The human rights issues to be addressed will be human trafficking, access to clean water, hunger, discrimination, domestic abuse, and the refugee crisis.  The schedule of events is as follows:
Friday, May 13:    There will be a screening of excerpts from the film "Not My Life" about human trafficking.  The students will also introduce the UNICEF Tap  Project, which raises money for clean water throughout the world when people agree not to use their cell phones for a period of time.
Monday, May 16:  The students will begin a school wide food drive.  Brown bags will be distributed with specific suggestions of food donations.  The food will be distributed to a local food bank.
Tuesday, May 17:  There will be an activity entitled, "What's It Like to Experience Discrimination?" - a demonstration of discriminatory treatment of people.
Thursday, May 19: A survey will be distributed explaining that on Thursday, May 19, students and teachers will have the opportunity to opt out of the regular lunch and instead have only rice, beans and water.  For each person who chooses to opt out, Solomon Schechter will donate $2.00 to the "Feeding America" food bank network.
In addition, during weekly Advisory periods based on grade, students will play the game "Against All Odds," which will help them understand the life of a refugee and they will also write letters and make bracelets to donate to victims of domestic violence.
Throughout the entire program, students will put facts about various human rights issues in the Daily Bulletin and at various spots around the school.  They will also prepare sheets with facts about human rights issues related to particular classes, which the teachers can hand out to their students.  For example, they will prepare a sheet for English classes with facts about the percentage of illiterate students in particular countries.
2015 Upstander Week Activities
Briarcliff High School
The students will be making a series of public service announcements dealing with food injustice.  They are also creating a twitter account with the goal of bringing awareness to our community about the ever increasing number of children who go without meals in our region.
French American School New York (FASNY)
On Tuesday, May 19 there will be an assembly program led by FASNY's Diversity Club to announce and share their two projects:
The We Need Change project is a student based movement; a spring off of all the recent social justice movements.  The goal of this project is to bring attention to major issues concerning diversity in today's society using professional photography to humanize and localize these issues.
http://we-needchange.tumblr.com/tagged/we-need-change
The Skin I'm In project aims to create a visual representation of the severity of micro-aggressions and common day slurs present in our every day school lives but also in our society.
http://we-needchange.tumblr.com/tagged/the-skin-i'm-in
New Canaan High School

Human Rights Advocates are holding a Bake Sale for the earthquake victims of Nepal.  They are providing information about the devastation and all proceeds will be sent to the Red Cross for Nepal.  The students will also distribute information to their classmates about the possibility of having a smaller version of the Student Institute in their own school at the beginning of the 2015 - 2016 academic year.
Ossining High School

Fundraising Activity for the Thirst Project
During Upstander Week, Ossining students will bring awareness to the need for clean water around the world. They will conduct a social experiment that draws attention to lack of clean drinking water in the world and the illnesses that result from drinking "dirty" water. Their goal is to raise between $200-$500.
We are a Thirst Project is the world's leading YOUTH water activism organization. It was started by Seth Maxwell after one of his friends exposed him to the water crisis around the world. We are a movement of high school and college students who build freshwater wells in developing nations and impoverished communities to provide people with safe, clean water. Thirst Project is a nonprofit organization that travels across the United States speaking at schools to educate students about the global water crisis and challenges them to fundraise to build wells. So far, they have given 280,000 people in 13 countries safe, clean water.
Rocky Point High School

Students are creating a public service announcement video to be played in homerooms to raise awareness about the issue of human trafficking. The campaign will continue through homecoming next year. At homecoming the students plan to hand out brochures, sell muffins to raise funds to buy bracelets and donate the money to a group which is working to end human trafficking such as the Polaris Project.
In addition the students who attended the 2015 Human Rights Institute for High School Student Leaders plan to start a Human Rights Club in their school which will be open to everyone.
Sleepy Hollow High School
Students are planning fundraising activities to support the victims of the Nepal earthquake.  The campaign will begin on Third Friday evening (May 15) in Tarrytown with an awareness campaign.  The culminating event will be a fundraising concert on Friday, June 5 at 7:30 pm by the Hudson.  The bands will include both students and local adults.  The students who participated in the Student Institute have enlisted the support of the Model UN Club and the Humans to Humans Club and everyone has decided to sponsor the efforts of Heifer International (www.heifer.org).  Heifer International's mission is to work with communities to end world hunger and poverty and to care for the earth.
Solomon Schechter School
On Monday, May 18 there will be a program from 6:30 - 8:00 pm.  The first half will be a screening of a portion of "A Path Appears," the sequel to "Half the Sky."  The second half will be a talk by Fredric Green, from the Westchester County District Attorney's Office, about cases of domestic violence, child and elder abuse, and sex trafficking.
On Wednesday, May 20 there will be a 45-minute in-school program led by members of the Human Rights Club.  The first part of the program will be a presentation about human rights issues.  The second part will involve the students making bracelets to send to My Sister's Place, in order to show support for people who have been victims of abuse.
Walter Panas High School
The UN/Inter-Ethnic Club, the National Honor Society along with two freshmen students and students who participated in HHREC's Student Institute on March 19, 2015 are organizing a "Panas" donation to Nepal.  Nepal is one of the world's poorest countries, and has been devastated by a powerful earthquake, and it's aftershocks, in recent weeks.  Many have lost homes, friends, and family members. The students are asking everyone in the school to donate any change they can to jars present around the school, or, to the jars going around the lunch room during each lunch period.  This collection will continue until the end of the school year.  All the collected money will be donated to Nepal via the Rotary Club. The campaign is stressing that any contribution can and will make a difference.  Students are urging their classmates to be Upstanders not Bystanders.
2014 Upstander Week Activities
Sleepy Hollow High School

On May 17 Sleepy Hollow High School will hold a Special Olympics Spring Games on the campus of the high school.  The event will begin at 8:30 am and conclude at 3:30 pm.  Track events include 50m, 100m, 400m Relay, Walking, Running) and Field (Turbo Javelin, High Jump, Running Long Jump, Shot Put, Standing Long Jump).
Download Flyer

Solomon Schechter School
On May 19 from 7:00 - 8:30 pm there will be a screening of, Half the Sky, a film based on the best-selling book by Pulitzer Prize-winning journalists, Nicholas D. Kristof and Sheryl WuDunn.  Following the film there will be a presentation by Raina Kadavil.
Download Flyer
Harrison High School

On May 20 the Human Rights and Global Awareness Club and Friends of Rachel will present the award-winning documentary, Bully, in the Harrison High School Student Union.  Following the film, there will be a debrief/discussion session.  On Friday, May 30 the 1st Annual Upstanders Walk will take place at the Harrison High School Track beginning at 6pm.  Proceeds will benefit the American Foundation for Suicide Prevention and Pacer's National Bullying Prevention Center.
Download Flyer
Croton Harmon High School
The students will focus on a local and global theme during Upstander Week.
Locally:  "Words Last Forever" - a "think before you speak" campaign/pledge where they raise awareness about improper words students use and how what they say and how we judge others has lasting effects (i.e. bullying, intolerance, disrespect, hate, etc.).  There will be a screening of the film "Bully" on Thursday, May 22 - to make the message hit home.
Globally:  "A Democratic Ukraine" - raising awareness about aggression and appeasement in Crimea and Ukraine, where people can sign a petition, which will be sent to diplomats on all sides.
North Salem High School
Under the direction of Amnesty International and the Human Rights Class, students will work on the campaign, Spread the World to End the Word.  Language afftects attitudes.  Attitudes impact actions. This ia an on-going effort to raise the consciousness of society about the dehumanizing and hurtful effects of the word "retard(ed)" and encourage people to pledge to stop using the R-word.  The campaign is intended to get schools, communities and organizations to rally and pledge their support to help create communities of inclusion and acceptance for all people.
Download Handout
Briarcliff High School
The students are running an anti-bullying campaign.  Their activity began with a district-wide participation in the Defeat the Label program to Stand for Change.  The first day consisted of viewing a brief video and then standing in a moment of silence.  Upstander Week will consist of morning announcements, posters identifying who students could turn to if they are bullied and ending on Friday, May 23 with a school-wide action in which several human rights groups with in the school all dress the same in solidarity with all those who have been victims of bullying.

New Canaan High School
Students at New Canaan High School perceive themselves as "typical" or "atypical" New Canaan.  There is an overall sense of exclusivity among different groups of students that needs to be debunked.  We strive to break down perceptions and create a sense of "one united community" that is comprised of different people who are truly equal.  Using the school's mentoring program, the sophomore corps will facilitate team-building activities and create school-wide events that focus on commonalities while celebrating diversity.
2013 Upstander Week Activities
Teach-in Emphasizes Action on Poverty at Alexander Hamilton High School
The harsh realities of poverty in America were brought home to students at Alexander Hamilton when students participated in a special teach-in, part of the countywide initiative to encourage activism and awareness among students.  The program, led by Alexander Hamilton history teacher Al McCutchen, involved a number of student activities.  They included the creation and distribution of posters highlighting poverty and its often unlikely victims as well as introducing students to an online poverty simulation that tests players' ability to survive on $1,000 a month.
The game, called "What You Know About Poverty," can be found on the website www.playspent.org.   The goal is to end the month with some money left over.  Mr. McCutchen said exposure to the stimulation made students aware of how quickly people's lives can change as a result of changes in employment, housing, medical costs and other expenses.  Students also watched a number of videos on poverty that gave them a more realistic perspective on what it looks and feels like today.
North Salem Middle High School Focuses on the Issue of Acceptance
With a focus on how many words in our

daily vernacular can be unconsciously derogatory or degrading, student participants at this year's HHREC Student Institute developed a week long program to increase student awareness of this issue through presentations in homerooms, posters displayed around the school, and by encouraging students to put money in a Swear Jarwhen using derogatory terms.  All proceeds, over $100 were sent to the Trevor Project, a LGBT suicide prevention organization.  Students could also wear a free rainbow upstander bracelet and sign a schoolwide pledge to show their support to make North Salem Middle High School a more accepting place.
Rye Neck High School Raises Awareness About Human Trafficking
Student participants in The Holocaust & Human Rights Education Center Leadership Program decided to  inform their  fellow classmates about human trafficking around the world as well as at home in the United States.
The program included hanging posters with statistics and facts, including;
• "2 children are sold every minute",
• "Slavery was abolished 150 years ago, right? While it is true that slavery is illegal almost everywhere on earth, the fact that there are more slaves today than there ever were"
• "Freedom/Dignity/Justice is not for sale",
• "Empower the world's most vulnerable to break the cycle of exploitation"
• "Slavery is what slavery has always been: About one person controlling another person using violence and then exploiting them economically, paying them nothing. That's what slavery is about"
• "Over 100,000 children in the United States are forcefully put into this trade each year"
Second, they showed two short videos and a powerpoint in homeroom to raise
awareness for human trafficking among their peers on May 20 and 21.
Third, in support of human trafficking awareness they have become wholesalers of Not For Sale Campaign hoping to cell Thai cord bracelets. This will not only  make an impact by creating jobs and funding a project in a country that is most prominently affected by trafficking, but also by raising money to establish a human rights club in Rye Neck with Mrs. Carpiniello as the advisor. The money that stays with us will help return the money used to buy the bracelets and help get us started to find other worthy causes both local and abroad that we can support to make a change.
Finally, on, May 22 the students gave a short fact quiz in homeroom. Those who had the highest score were entered into a raffle to win a T-shirt and bracelet. We hope this will help inspire others spread awareness of this human rights violation.
Not For Sale creates tools that engage business, government, and grassroots in order to incubate and grow social enterprises to benefit enslaved and vulnerable communities.
Solomon Schechter of Westchester High School Focuses on Child Trafficking
The students  decided to focus on the problem of child trafficking. In particular, they focused on the need for safe houses for children who are threatened by such trafficking, and they are hoping to build such a house in the Washington area sometime in the future.. The students are planning to post information – posters, etc. – on a bulletin board at their school. Then, they will make a video about the issue, which they will share with their school.
Tuckahoe High School Raises Awareness About Domestic Violence
Students worked to raise awareness about the issue of Domestic Violence. Tuckahoe HS held flower sales and a car wash to raise money for Hopes Door- a domestic violence shelter in the weeks leading up to Upstanders Week.  They collected summer family fun items (jump ropes, balls, beach towels) as requested by the shelter. Tuckahoe HS also had a "Purple Day" on Wed May 22nd- purple is the national color of Domestic Violence- in order to raise awareness, as well as share Domestic Violence facts everyday that week during morning announcements. An article about the HHREC Student Institute on Human Rights and the issue they chose to focus on appeared in the school newspaper.

Previous Upstander Week Activity at Scarsdale High School

Upstander Day at Scarsdale High School - View Video
Workshops at High School Inspires Student Action
On October 21 the entire High School community took part in a day-long series of presentations and workshops that focused on the importance of being an "upstander" - someone who stands up and speaks out, or takes action when encountering injustice. The focus of the day reflects the Scarsdale Schools' motto, "non sibi" - not for one's self.
Students and teachers gathered as a group to view a film about child labor around the world, heard about previous and upcoming visits by Scarsdale students to assist with the Katrina recovery in Bay St. Louis on the Mississippi Gulf Coast as part of the SOS for Education project, and learned about a proposed trip to Ghana to work on a malaria prevention program.
During the day, students took part in 13 workshops on other opportunities to make a difference. Students also presented workshops on four projects that are the focus of student clubs - Free the Children, Partnership for Youth, Pine Ridge Reservation and Habitat for Humanity. Following Upstander Day, students created another club, Vitamin Angel Alliance, to support an effort described in one of the workshops. This club is dedicated to the prevention of childhood blindness.