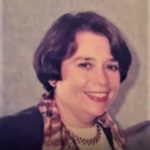 Susan J. Goldberg Memorial Teacher Award
An outstanding Holocaust and human rights educator during her long career, Susan J. Goldberg's memory is upheld in an award given annually to a regional educator whose work exemplifies Susan's passion to eradicate bigotry and hatred.
Susan was a dedicated English teacher at Westlake Middle School and a charter member of the Educators Planning Committee of the Holocaust and Human Rights Education Center. She was also a Museum (Mandel) Fellow at the United States Holocaust Memorial Museum and received the New York State Education Department Louis B. Yavner Award as Outstanding Holocaust and Human Rights Educator.
As a living testimony to her passion to eradicate hatred and bigotry through education and her personal courage to rise above adversity this award was established in 2003 in loving memory to be presented annually to an educator in our area who has made distinguished contributions to their school and community on teaching about the Holocaust and other violations of human rights.
The recipient is announced and presented the award at the Holocaust & Human Rights Education Center's Yom Hashoah Commemoration event held each year in April or May and will receive a certificate and a monetary prize.
Winners' names are included on a plaque in the Holocaust & Human Rights Education Center office.
Susan J. Goldberg Memorial Teacher Award Recipients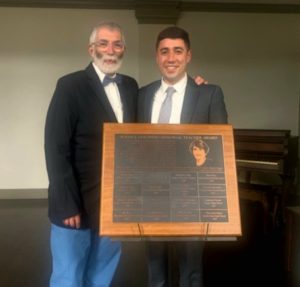 HHREC Director of Education Steven Goldberg with 2023
Susan J. Goldberg Award Recipient Francisco Sandoval of New Rochelle High School
Pamela Raines, Edgemont High School 2003
Stephanie Harley, Greenacres School 2004
Helene Alalouf, Yonkers High / Middle School 2005
Jon Beck, New Rochelle High School 2006
Seth Altman, Yorktown High School 2007
Brett Bowden, Croton Harmon High School 2008
Dawn Kessler, Somers High School, 2009
Garfield Charles, Greenwich High School, 2010
Mitchell S. Polay, Paideia School 15, Yonkers, 2011
Erin Filner, Fox Lane Middle School, 2012
Christine Bonarrigo, New Canaan High School, 2013
Mirna Aguilar, Ossining High School, 2014
Megan Rice, Pelham Memorial High School, 2015
Shawn Perekrestenko, German International School NY, 2016
Stephanie Catania, Somers High School, 2017
Christopher Regan, North Salem High School, 2018
Amanda Gambacorta, Mahopac High School, 2019
Julia Collins, German International School NY, 2020
Kasie Peralta, Woodlands Middle/High School, 2021
Jennifer Laden, Byram Hills Schools, 2022
Francisco Sandoval, New Rochelle High School, 2023