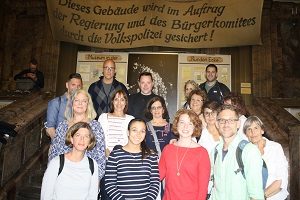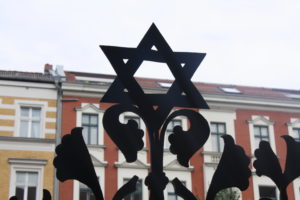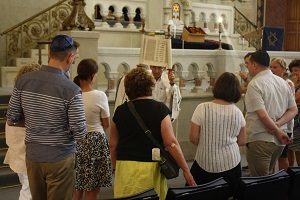 The opportunity to visit the sites of the Holocaust in Germany and Poland and speak with experts in the field and also to experience how re-unified Germany approaches the increased diversification of the population far exceeds whatever teachers can learn in courses and through extensive reading.
This educational mission affords a unique opportunity for teachers and should inspire and motivate them in their preparation to teach the lessons of the Holocaust and human rights to their students.
We would like to thank our underwriters for this program:
Rebecca and Arthur Samberg, Emily and Richard Cohen, Steven Goldberg, and Chris Regan.
Educators' Study Tour of Germany and Poland July 7-22, 2018
$2800 per person after HHREC Scholarship* 75 CTLE hours will be awarded to participants at the conclusion of the program
Includes
Non-stop roundtrip airfare: New York – Berlin and one-way from Berlin to Gdansk and Krakow to Berlin
Single accommodation including breakfast in four star hotels in Berlin, Gdansk, Warsaw and Krakow
(If two participants request double occupancy, there will be a $600 rebate per person)
Transportation by coach, taxi or public transportation and long distance trains
3 group lunches
7 group dinners
Tickets for the Chamäleon Theater in Berlin
English speaking guide
Lectures, discussions, and guided tours in English or with English translation
Entrance fees for museums in Berlin, Leipzig, Gdansk, Warsaw and Krakow
Group gratuities for tour guides and transportation
DETAILS:
Sightseeing Coach Tour of Berlin, including Berlin Wall Memorial, Brandenburg Gate, Bebelplatz
Holocaust Memorials in Berlin (Murdered Jews of Europe, Memorial in the Bavarian Quarter, Memorial Track 17 – Berlin Grunewald, Homosexuals, Sinti and Roma, "T4" Memorial, Stolpersteine)
Educational programs at the House of the Wannsee Conference, Murdered Jews of Europe Memorial Museum, Stasi Museum, Polin (Museum of the History of Polish Jews), Solidarity Museum, Marienfelder Refugee Center
Tour and educational program at Sachsenhausen and Auschwitz-Birkenau
Walking tour of Kreuzberg section of Berlin, visit to mosques and Turkish restaurant
Tour of Kasimierz historic Jewish section of Krakow
Panel discussion on Jewish life in Germany today and visit to a synagogue in Berlin
Panel discussion on Migrant Settlement in Germany: Education, Housing, Employment, Legal Issues
Program on tolerance education and civil society n Germany: 7xjung – training ground for solidarity and respect
" Truly an inspirational program. Intellectually challenging and rewarding."