High School Living History Project
Program Overview
The Holocaust & Human Rights Education Center offers an opportunity for students to participate in an intergenerational program connecting high school students with the children and grandchildren of Holocaust survivors (GenerationsForward).
Participants will be among a select group of students, grades 10-12, chosen by their teachers to take part in the program. The High School Living History Project will impact these students and the community as students document and share survivors' stories. This experience is a natural next step for our "Twin with a Survivor" program which is geared toward middle school students.
Program Description and Purpose:
The High School Living History Project is a unique, intergenerational program that brings together students and the children and grandchildren of Holocaust survivors.  Every individual who hears these stories, either first hand or through a living witness, becomes responsible for ensuring these stories live on for generations.
Students will learn and process these narratives so that they can better safeguard them and our society's knowledge of this period in history. We hope that the connections the students make will inspire them and help inform their decisions as they grow into adults.  For the GenerationsForward members, the program ensures that younger generations continue to hear the stories of the Holocaust: both its horrors and the tremendous courage and resilience of its many survivors.  These stories, in addition to creating a living history, serve as a platform to have greater discussions about human rights issues impacting our world.  A knowledge of the past is critical for our students as they impact the present and shape our future. In sum, our goals are to:
Create an intergenerational connection between students and members of our     GenerationsForward program to ensure their stories are protected.
Educate students and their school communities about the events of the Holocaust.
Create a deeper connection between the Holocaust & Human Rights Education Center and the Westchester community.
PROJECT OUTCOMES
Students will create a project which will prepare them to give an oral presentation in April (in person or via Zoom depending on social Distancing protocols).  They will share their GenerationsForward member's story, a timeline of events in the survivors' home country and implications this learning has for the future.  The final project must be able to live in a digital space and can be as creative as the student would like.  Students are encouraged to also present their project to their school community.
The Power of Stories
Living History Presentations by Westchester High School Students
April 19, 2023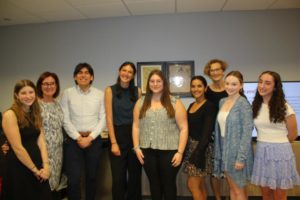 Blake Cohen (Briarcliff High School) - Crocheting inspired by Debby Ziering; Jeanne Claire Cotnoir, Coordinator of Student Programming; Albert Harris (Valhalla High School) - Drawings inspired by Bill Zimmerman; Abigeal Rondeau (Byram Hills High School) - A cookbook inspired by Ziporah Janowski; Ashley Stangel (Byram Hills High School) - Lunch and Learn inspired by Audrey Reich; Arianna Garcia (Byram Hills High School) - Jewelry inspired by Kathy Zaltas; Debbie Minchin, Coordinator of Student Programming; Alexandra Camardella (Somers High School) - A dance inspired by Sam Rosmarin; Ava Kelly Dee (New Rochelle High School) - A children's book inspired by Naomi Koller.
Special thanks to our teacher mentors who make this program possible: Melissa Carnahan, Christopher Farley, Jennifer Laden, and Francisco Sandoval.