Iona University/HHREC Annual Kristallnacht Commemoration
On November 9th and 10th in 1938, the Nazi Party spread a wave of violence throughout Germany, parts of Austria which were annexed, and an area of Czechoslovakia known as Sudetenland. Known as pogroms, these anti-Jewish riots plundered Jewish-owned businesses, homes and synagogues. For the first time, the Nazi party arrested individuals solely based on their ethnicity. An estimated 30,000 male Jews were arrested in the aftermath.
HHREC offers a Kristallnacht Commemoration every year in conjunction with Iona University.
In 2022, we offered a live event at Iona University entitled: FDR's Response to Kristallnacht  that featured a presentation and discussion with Dr. Rafael Medoff, Professor of Jewish History and the founding director of The David Wyman Institute for Holocaust Studies is based in Washington, D.C.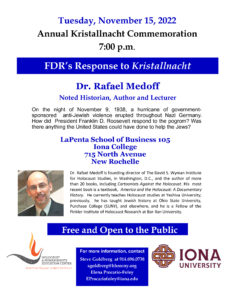 Past HHREC/Iona College Kristallnacht Events
2021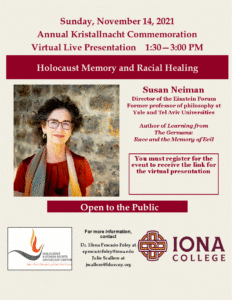 2020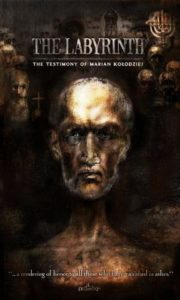 Screening of the award-winning documentary, "The Labyrinth: The Testimony of Marian Kolodziej" followed by a discussion with producer Father Ron Schmidt – a Jesuit priest and documentary filmmaker, and renowned Holocaust scholar Dr. Michael Berenbaum.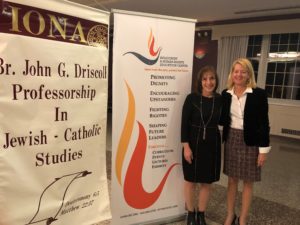 November 1938: Perspectives from the Vatican Archives
Suzanne Brown-Fleming
Director of Visiting Scholar Programs
United States Holocaust Memorial Museum Jack Joseph and Morton Mandel Center for Advanced Holocaust Studies
Film Screening of My Italian Secret:  The Forgotten Heroes
Vincent Marmorale
Italy and the Holocaust Foundation
2018
Distinguished Lecturer, John Roth
"We Are in This World to Do Good:  Ethics During and After the Holocaust"
John K. Roth is the Edward J. Sexton Professor Emeritus of Philosophy and the Founding Director of the  Mgrublian Center for Human Rights at Claremont McKenna College. He has published hundreds of articles and reviews and authored, co-authored, or edited more than fifty books, and has been honored with the Holocaust Educational Foundation's Distinguished Achievement Award for Holocaust Studies and Research.
Co-hosted by: