Educators' Program Committee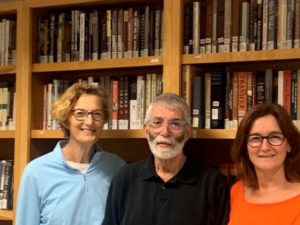 Through our volunteer Educators' Program Committee, the HHREC gives teachers the unique opportunity to develop programs for themselves and others. These programs not only enrich teachers' knowledge about the Holocaust and related issues, they provide the lens through which to view all other human rights violations.
Call 914-696-0738 or email sgoldberg@hhrecny.org for more information.
Director of Education
Steven Goldberg  
Educators' Program Committee
Albert Leonard Middle School
Blind Brook-Rye High School
Briarcliff High School
Denzel Washington School of the Arts
Dobbs Ferry Middle School
Eastchester Public Schools
French American School New York
German International School New York
Mahopac High School
Mount Vernon High School
New Rochelle High School
North Salem High School
Newburgh Enlarged City School District
North Salem High School
Ossining High School
Paideia School 15 (Yonkers)
Pelham Memorial High School
Pierre Van Cortlandt Middle School
Seven Bridges Middle School
Somers High School
The Leffell School (lower school)
Woodlands MS/HS
Yorktown High School
2022 - 2023 Meeting Dates
Tuesday, October 3, 2023
Thursday, November 2, 2023
Tuesday, December 5, 2023
Thursday, January 4, 2024
Tuesday, February 6, 2024
Thursday, March 7, 2024
Tuesday, April 9, 2024
Thursday, May 2, 2024