Annual Westchester Countywide
Yom Hashoah Holocaust Commemoration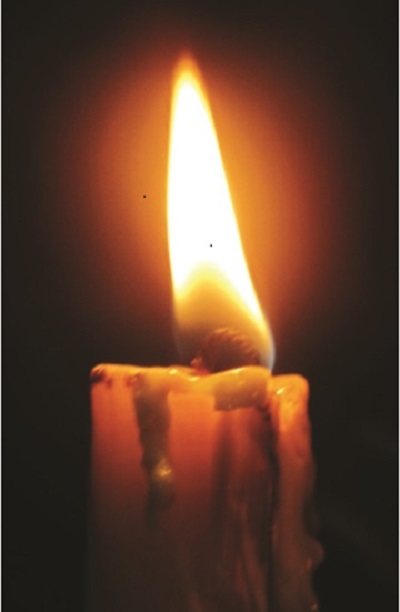 Keeping the Memory Alive: Generation to Generation
The Holocaust & Human Rights Education Center (HHREC) and Westchester Jewish Council (WJC) present the Annual Westchester Countywide Yom Hashoah Holocaust Commemoration each year in April at the beautiful Holocaust & Human Rights Education Center Garden of Remembrance at 148 Martine Avenue, White Plains. This event is held to commemorate the approximately six million Jews murdered in the Holocaust by Nazi Germany and its collaborators.
In 2023, the Annual Countywide Yom Hashoah Commemoration 80th Anniversary of the Warsaw Ghetto Uprising was held on Tuesday, April 18th. A crowd estimated at close to 350 people attended the event and featured a keynote presentation by Holocaust Survivor Dr. Aliza Erber, who shared a story of how her mother had to give her away as a young child to live in an underground bunker and how she survived to ultimately reunite with her after the end of WWII. To see and hear her moving talk, click here.
The program began with the Opening of the Gates by Hillels of Westchester students, and a Sounding of the Shofar by Mitchell Ostrove, Board member, HHREC and WJC. Following the opening there was a Procession of Rescued Torahs from synagogues across Westchester and neighboring counties. Locations of origin were read by Cantor Robin Joseph, President of Kol Hazzanim, Westchester Community of Cantors and Cantor at Temple Beth Shalom of Hastings; a welcome message by Michael Gyory, Chairman HHREC; an Invocation by Rev. Doris Dalton, Chair of the Westchester County Human Rights Commission; and remarks by Westchester County Executive George Latimer.
The program also featured a Candle Lighting by the Somers Holocaust Commission Student Winners, and the Holocaust Kaddish was delivered by Rabbi Moshe Edelman, Westchester Board of Rabbis. Closing remarks were delivered by William H. Schrag, President WJC.
Co-hosted by: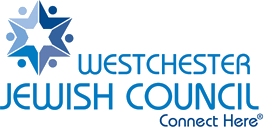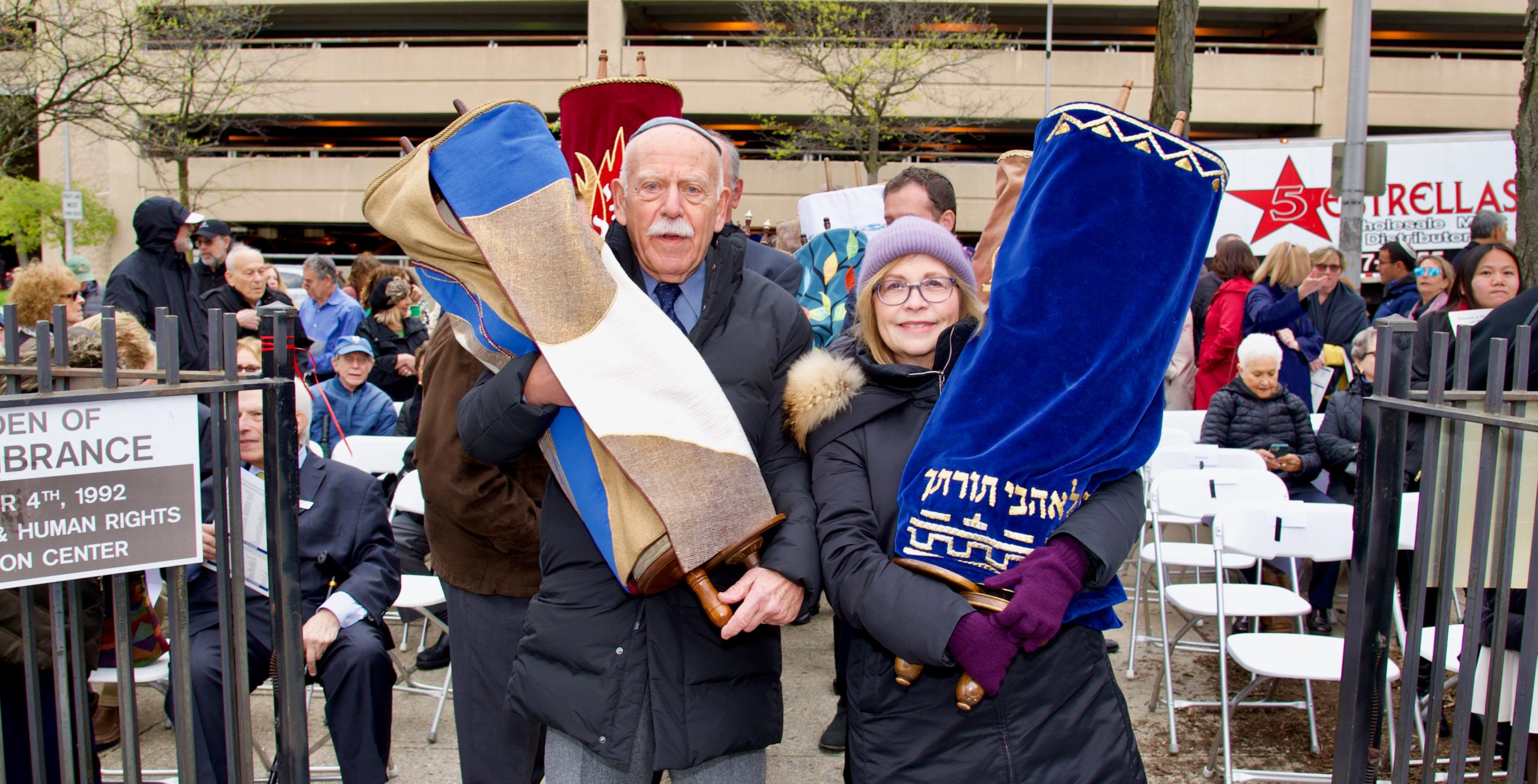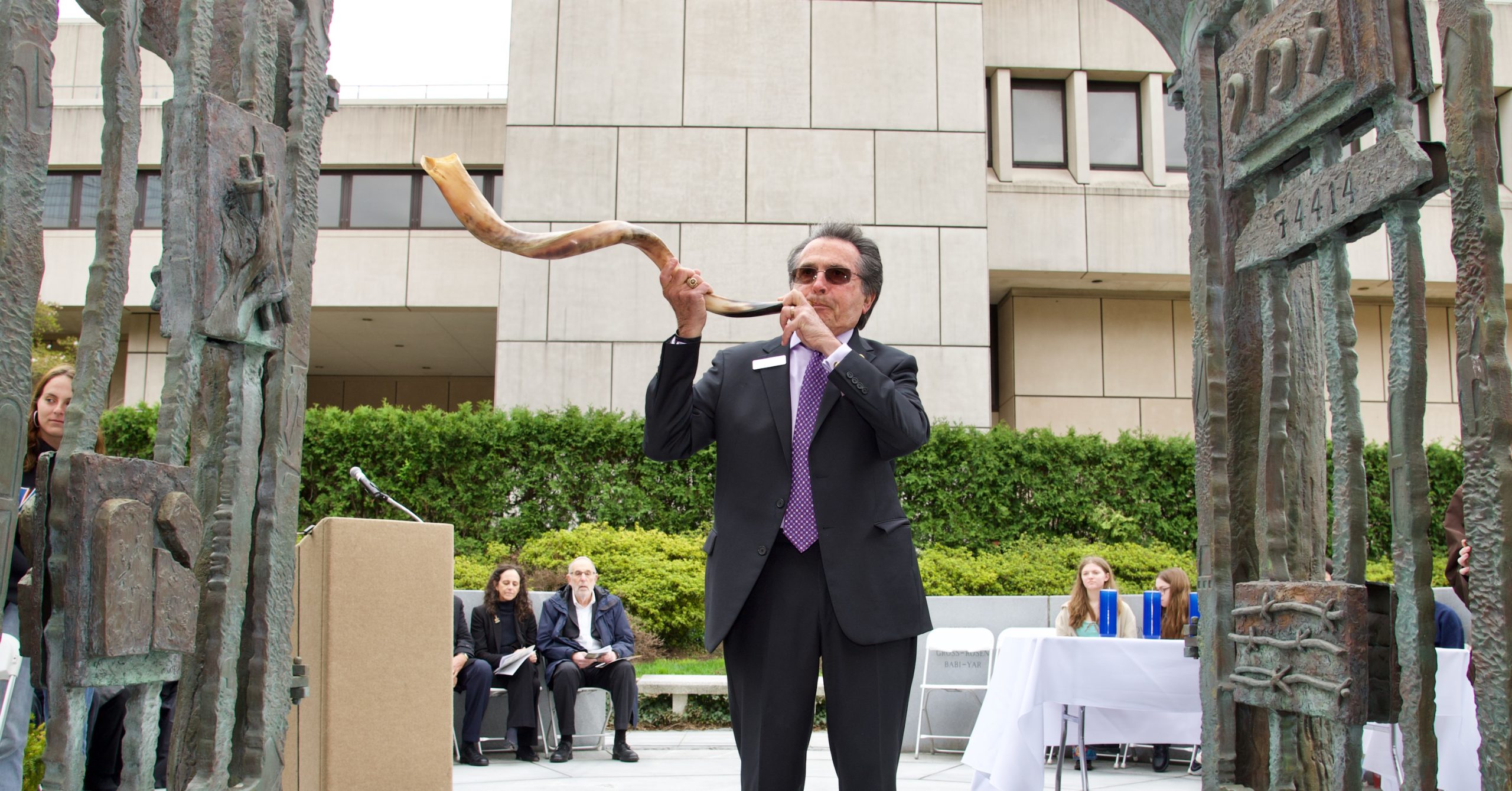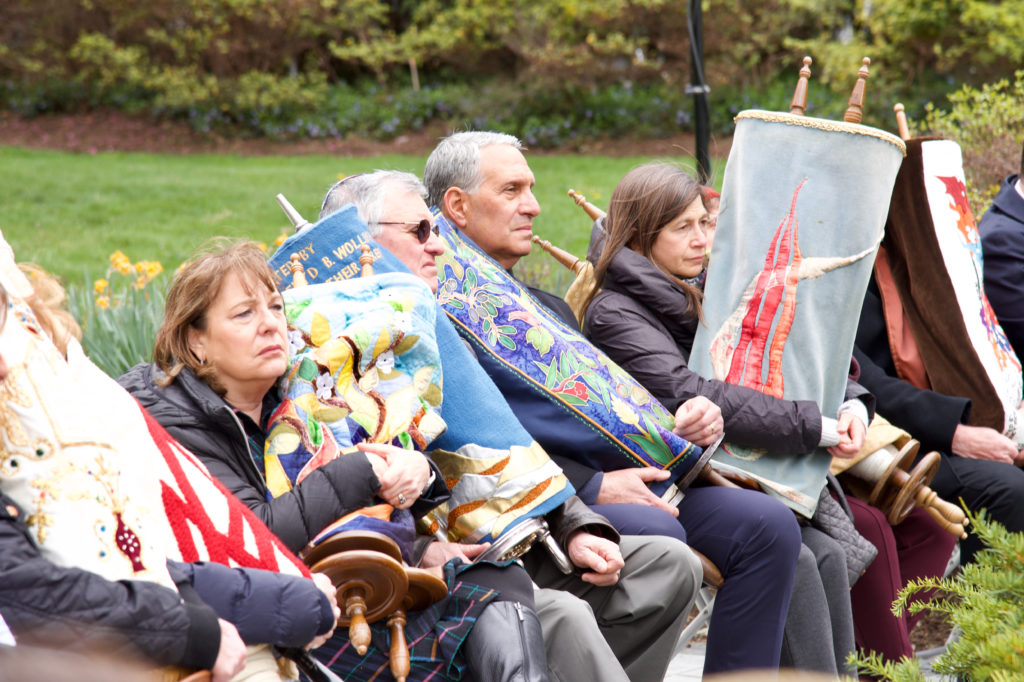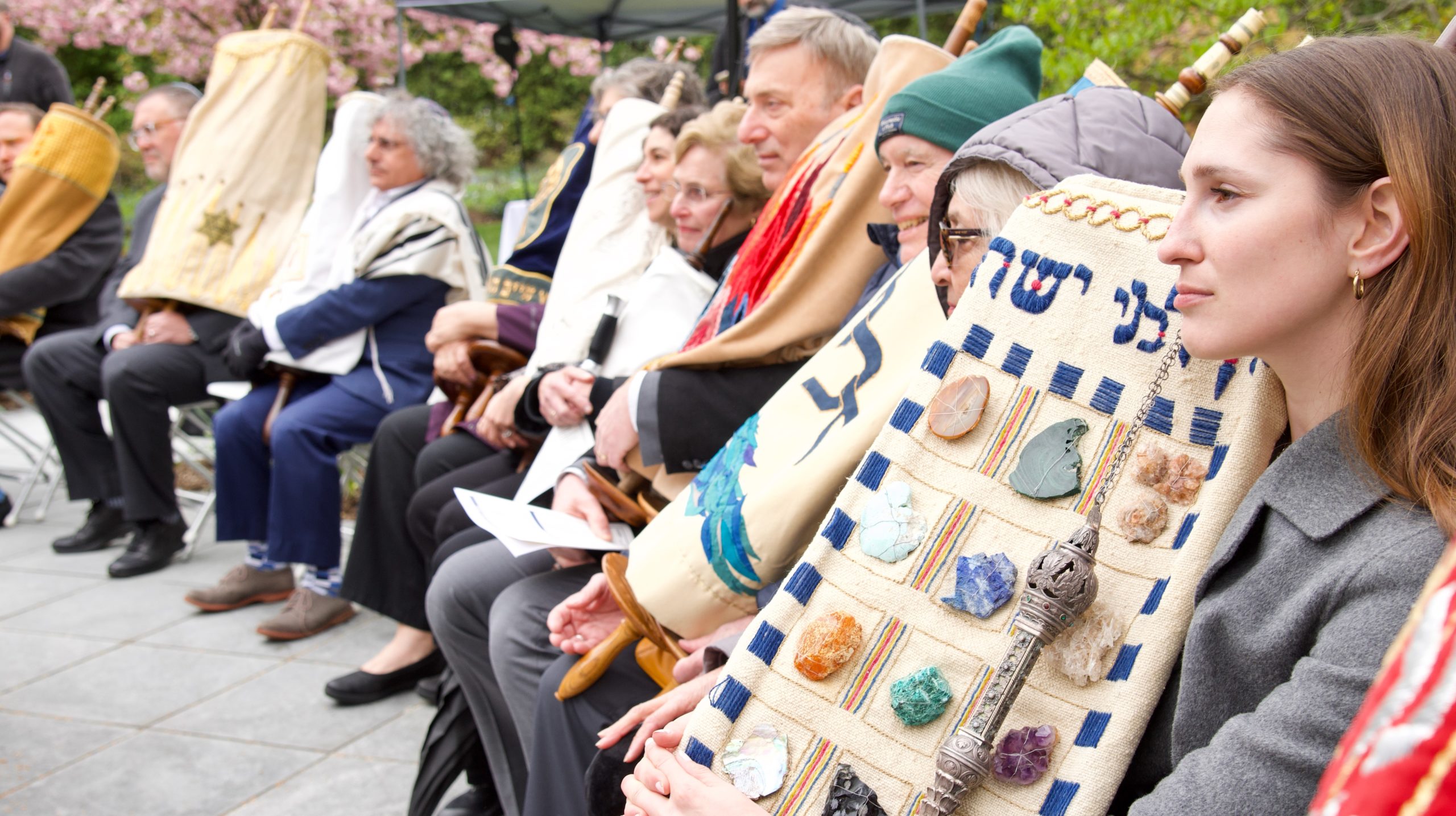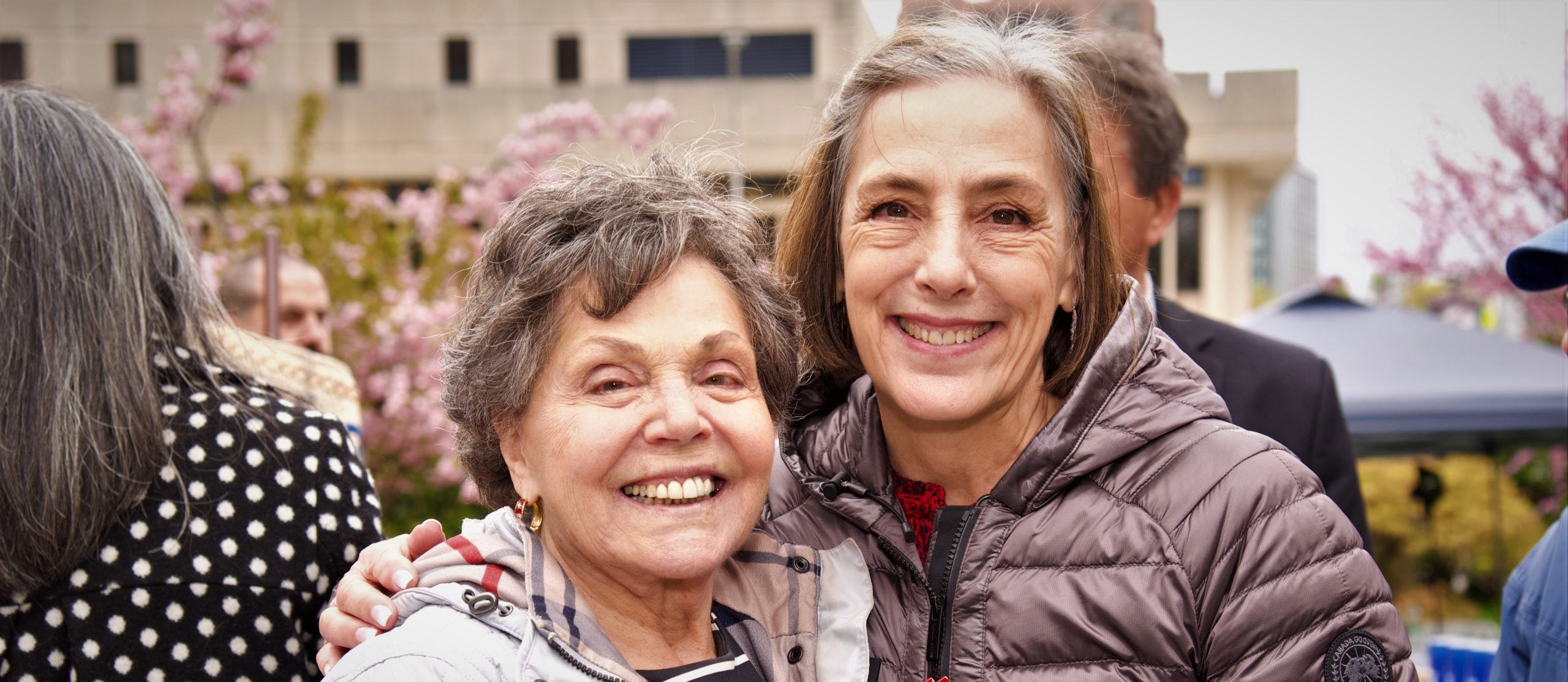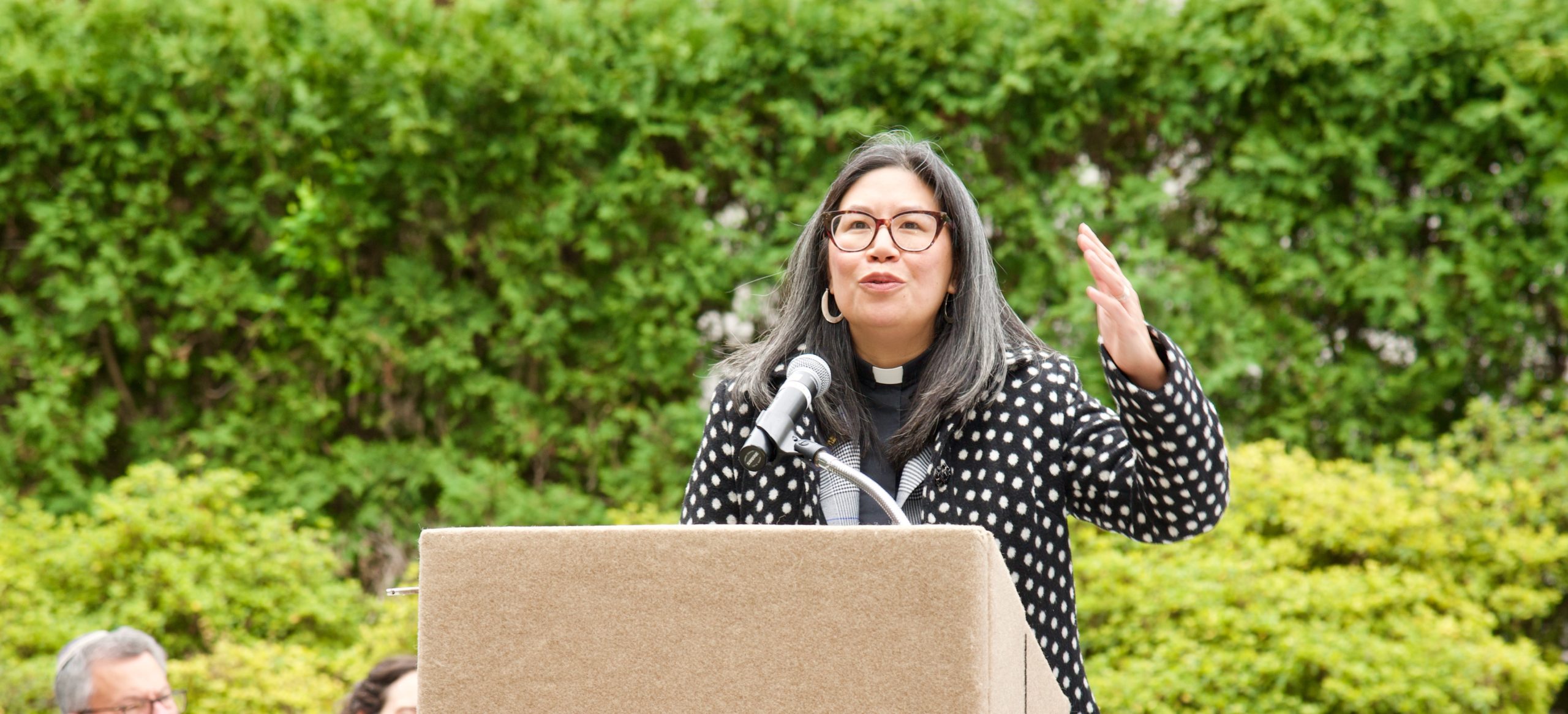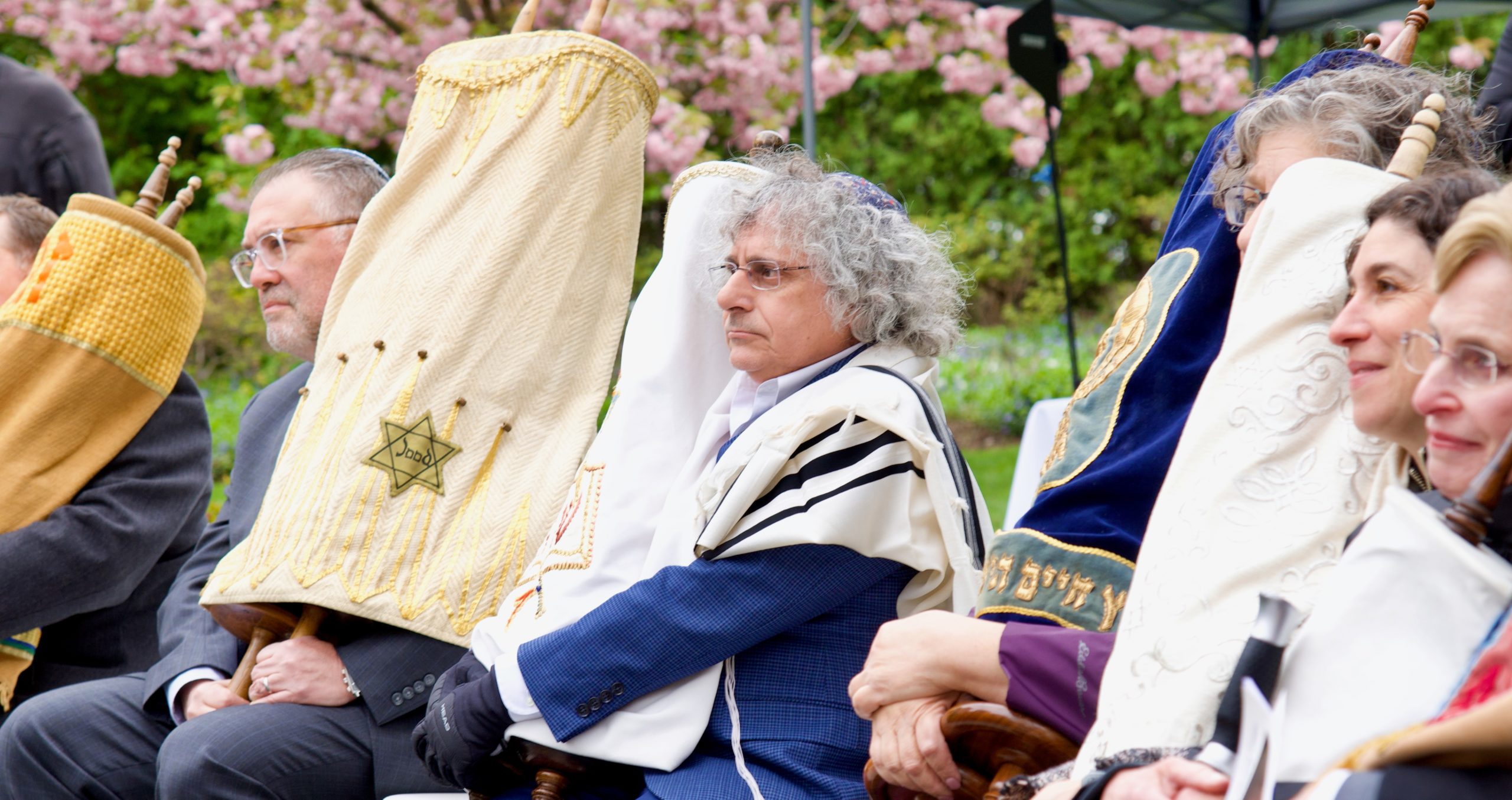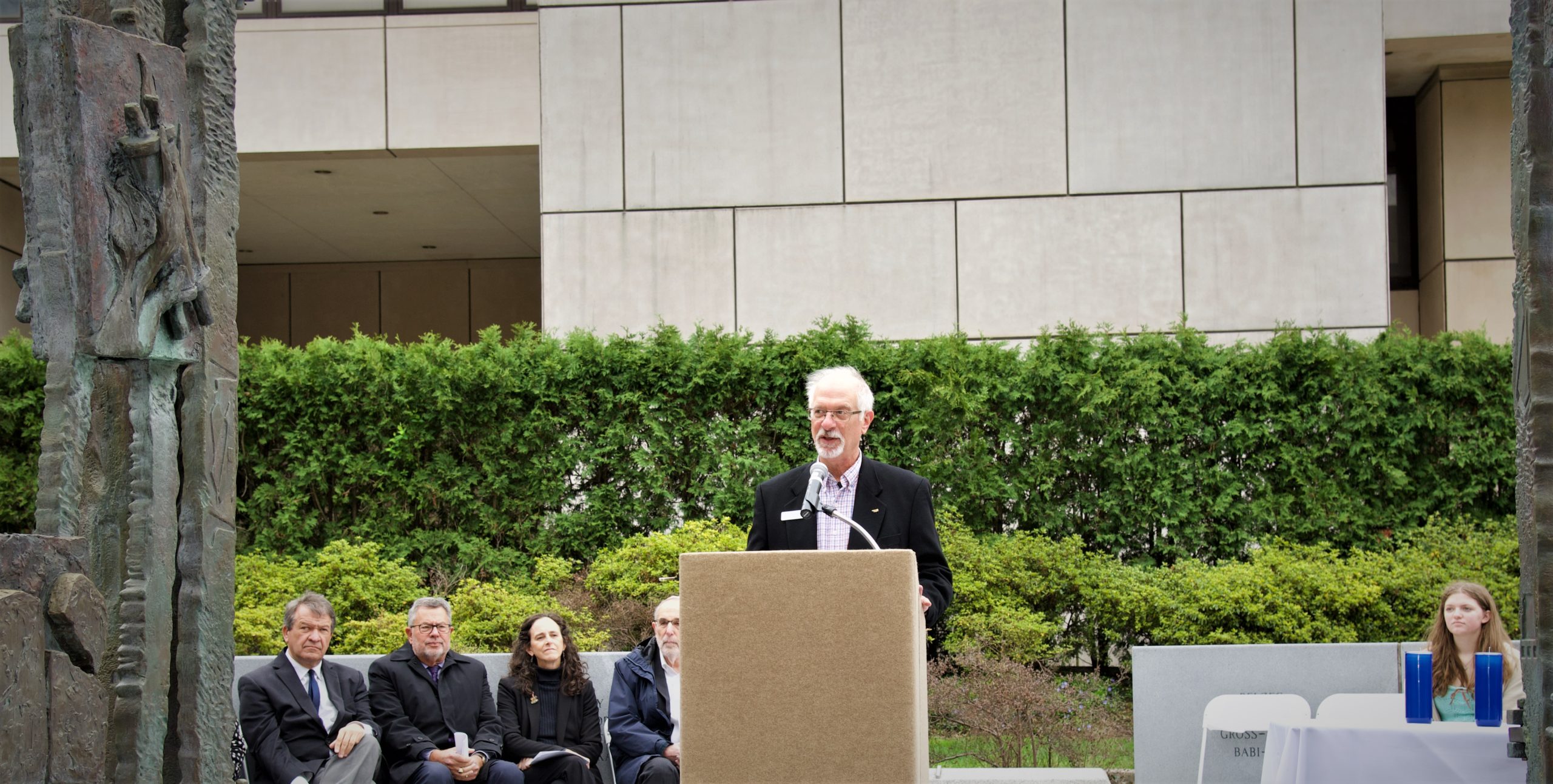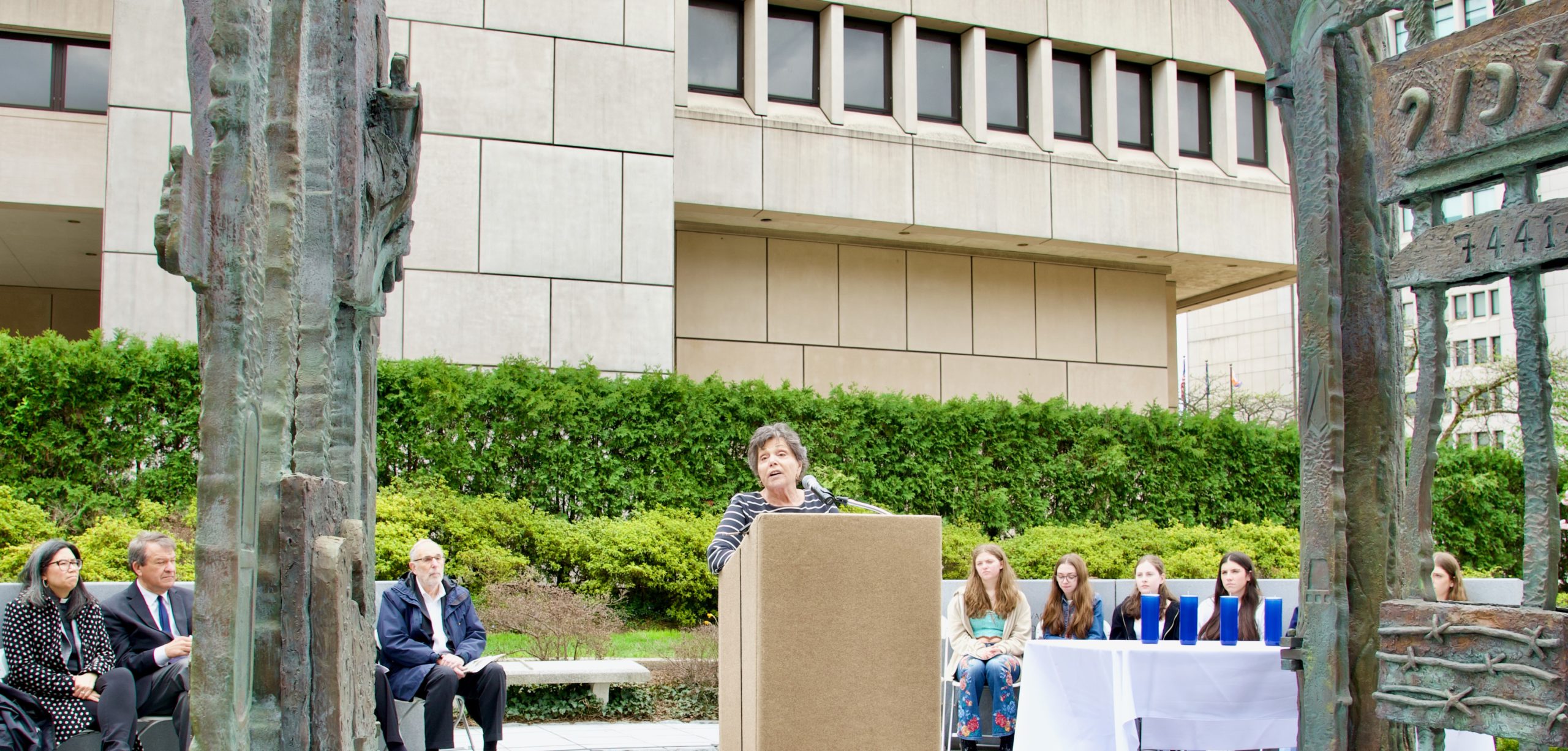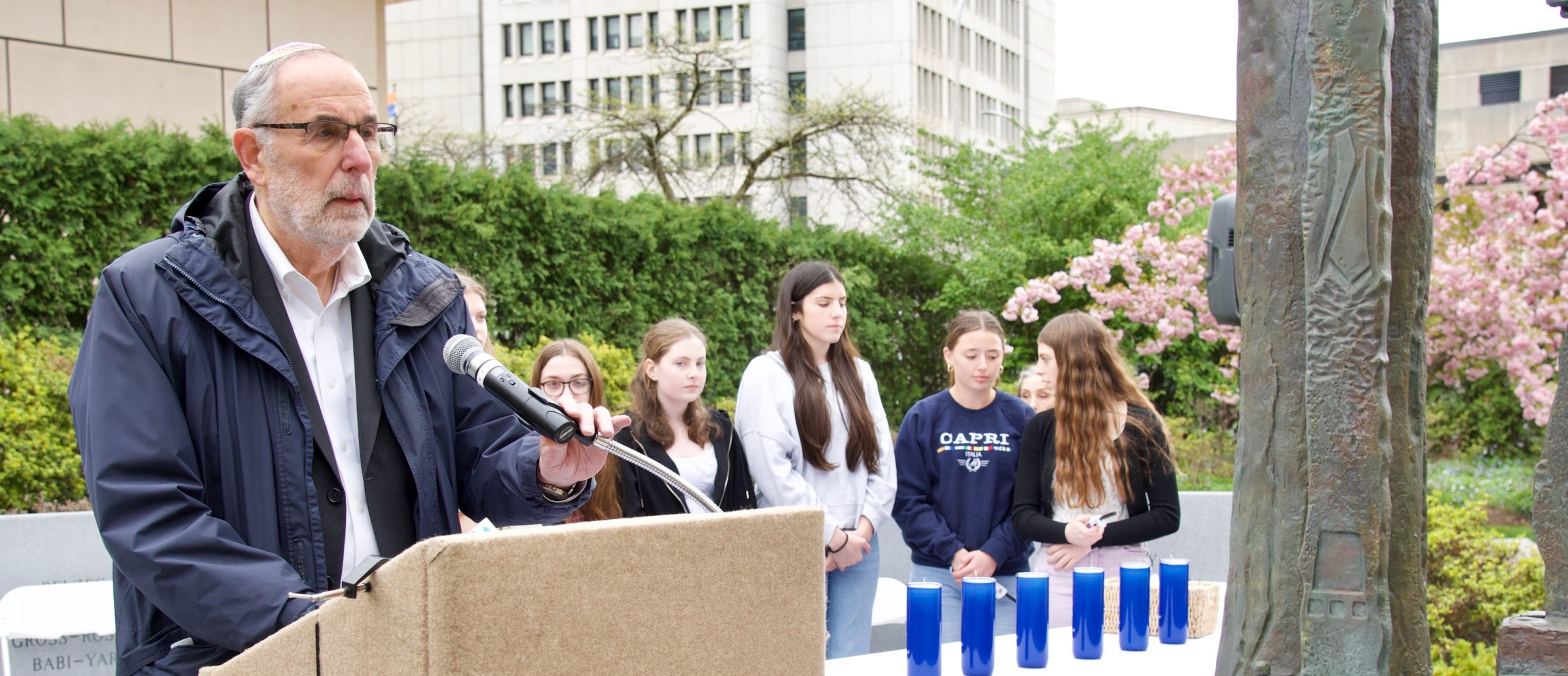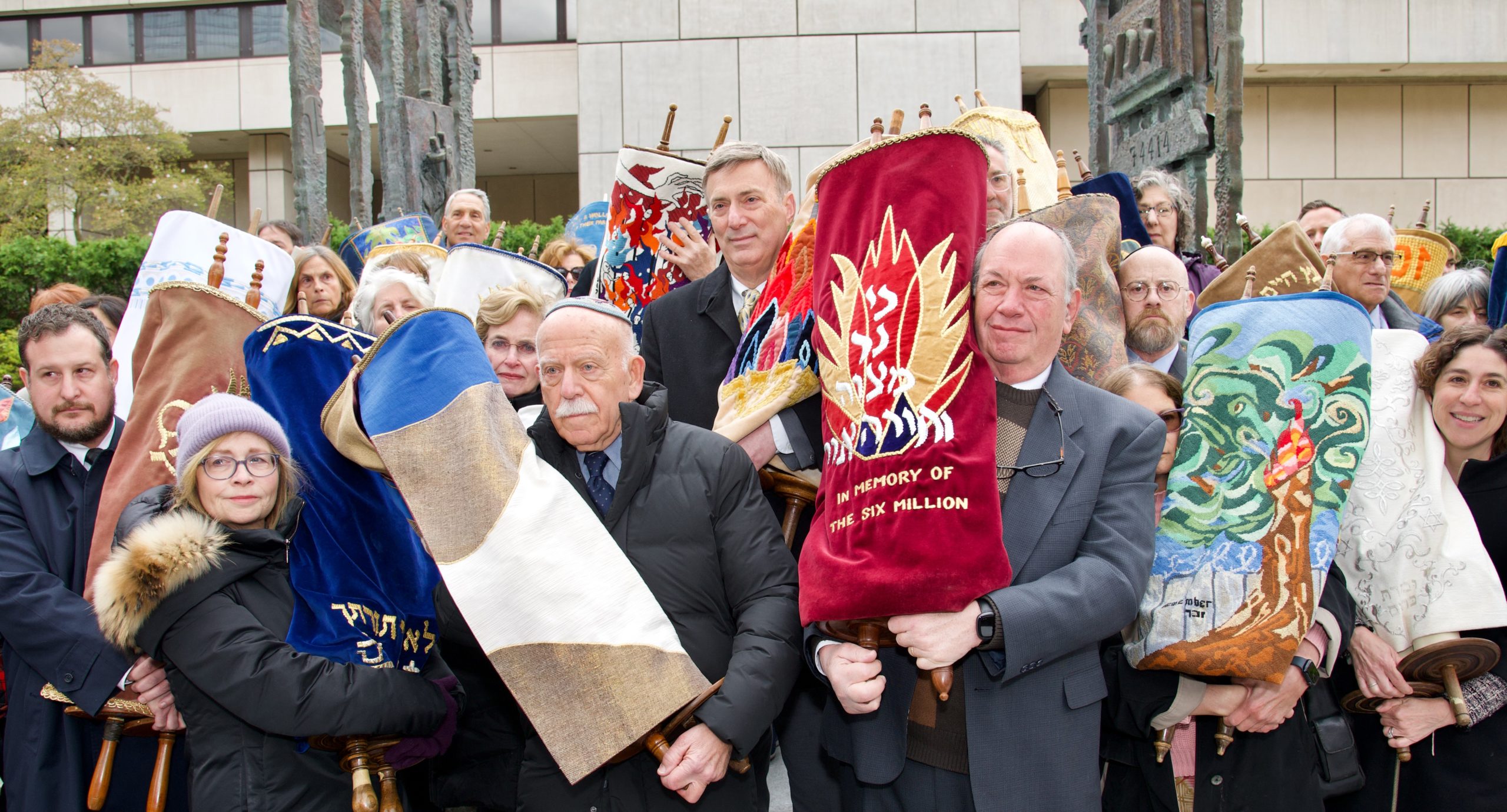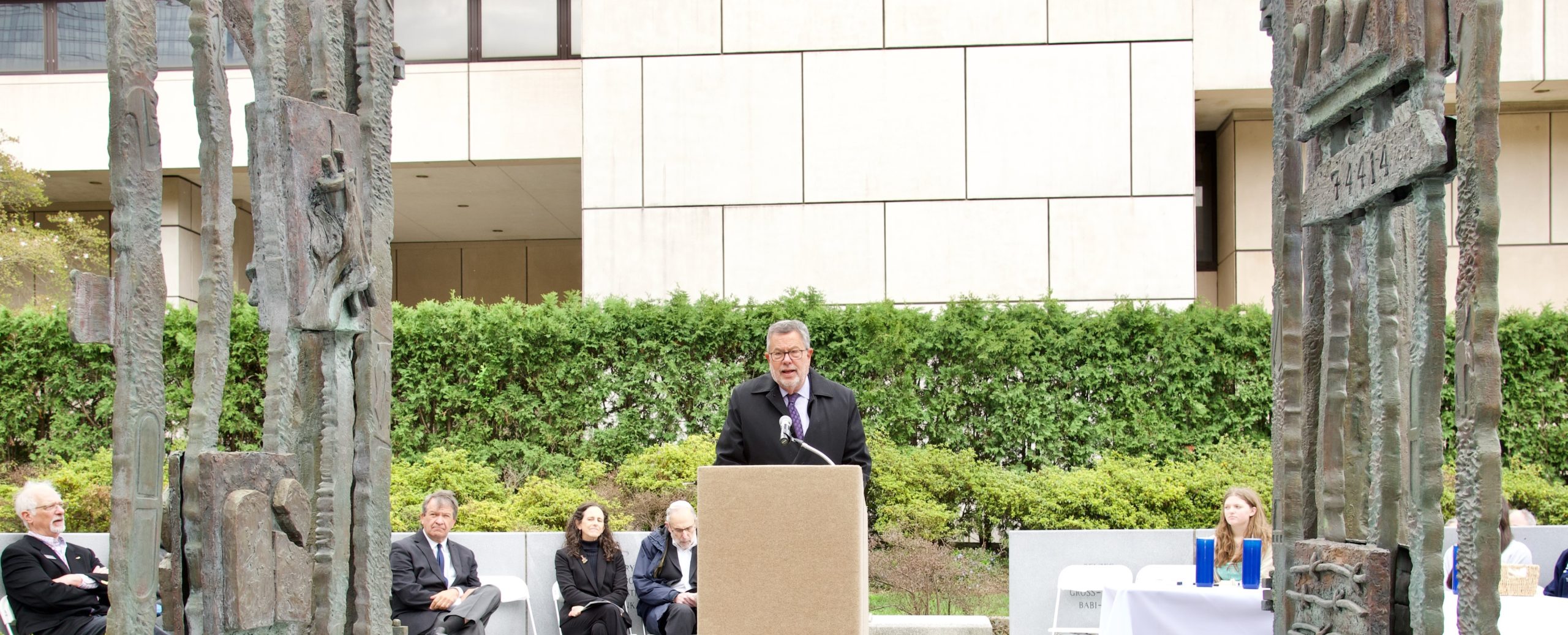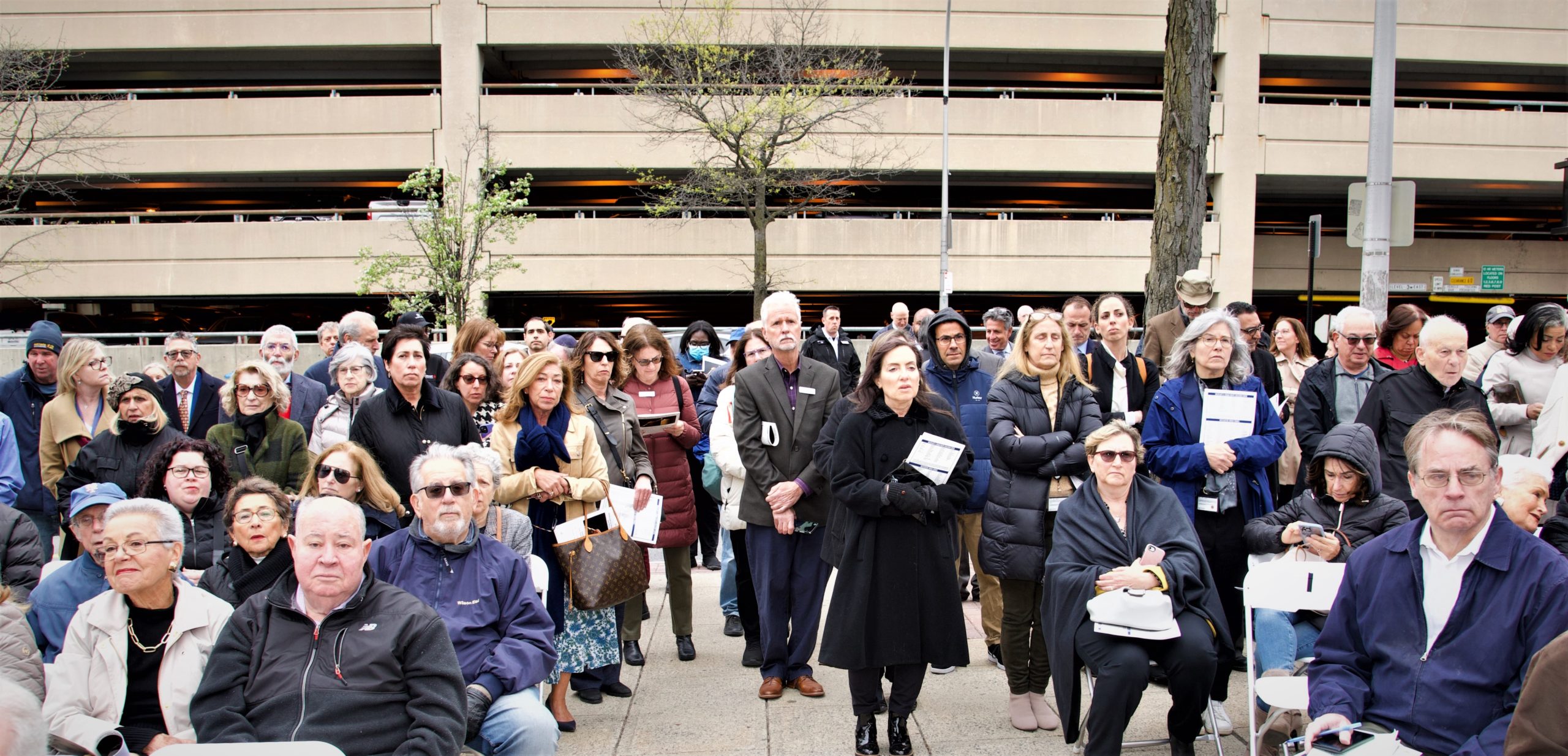 2023 Countywide Yom Hashoah Commemoration
at Garden of Remembrance
Photos courtesy: Julie Brimberg Rothschild
Past Countywide Yom Hashoah Commemorations 
William H. Donat Commemoration
In conjunction with Iona College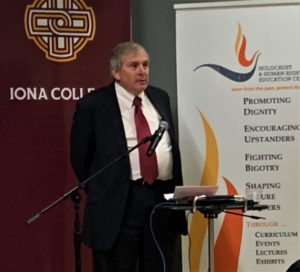 Each year, HHREC co-sponsors this event that features a distinguished lecturer to commemorate Yom Hashoah at Iona College in New Rochelle, NY.
In 2022, HHREC co-sponsored a live, in-person event on April 27th at the LaPenta School of Business at Iona College featuring Dan McMillan. The title of the program was: "Despite the Holocaust, Can We Believe in the Possibility of Progress?" That the world's most literate society perpetrated the Holocaust challenges our faith in humanity's capacity for moral progress. And today, a pandemic, climate change, and the dire state of our country's politics can lead us into outright despair.
Nonetheless, historian Dan McMillan argued that if we understand the many factors necessary to making the Holocaust possible, despite its inescapable horror we can retain some hope for the future of humankind. Author of the acclaimed How Could This Happen: Explaining the Holocaust (Basic Books, 2014), McMillan leads Save Democracy in America, a non-partisan campaign to break the power of big money in politics, and restore government by the people. Learn more at savedemocracyinamerica.org.
The event included a presentation of the HHREC 20th annual Susan J. Goldberg Memorial Teacher Award to Jennifer Laden, Social Studies Department Chair 6-12 of Byram Hills Central School District in Armonk.
Past guest speakers who have appeared include: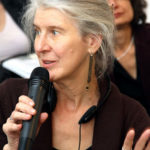 Dr. Annamaria Orla-Bukowska
Social Anthropologist
Institute of Sociology at Jagiellonian University, Krakow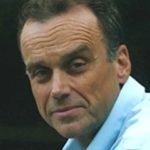 Andrew Nagorski
Award-Winning Journalist and Author
Purchase College and Holocaust & Human Rights Education Center Co-Sponsor Screening of Holocaust Historical Film
Purchase College State University of New York and the the Holocaust & Human Rights Education Center (HHREC) co-sponsored a screening of a documentary film and talk with Executive Producer Nancy Spielberg on April 26th at the Humanities Theater on the campus of Purchase College.
Attendees watched the screening of the film Who Will Write our History and participated in a lively Q&A period moderated by HHREC Executive Director Millie Jasper about the making of the film with Spielberg.
The film was about the story set in November of 1940, days after the Nazis sealed 450,000 Jews in the Warsaw Ghetto, a secret band of journalists, scholars, and community leaders decided to fight back. Led by historian Emanuel Ringelblum and known by the code name Oyneg Shabes, this clandestine group vowed to defeat Nazi lies and propaganda not with guns or fists but with the ultimate weapon: the truth.