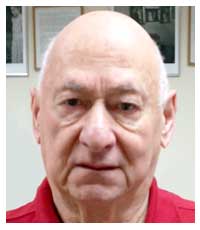 Peter Somogyi was born in Pecs, Hungary in 1933.  In April 1944, he was placed in a ghetto in Hungary with all the Jews of Pecs where he stayed for two months. On July 9, 1944, when he was 11 years old, he was deported to Auschwitz with his mother, sister, and twin brother Thomas.
When they arrived at Auschwitz, after four days packed in cattle cars, Dr. Josef Mengele chose twins from the prisoner's selection lines for use in his research.  Some of the twins were subjected to painful injections, endured cruel surgeries and suffered through countless other brutal experiments.
In May 1949, Mr. Somogyi and his brother moved to Israel.  He lived in Israel for seven years, then spent two years in England, then more than a decade in Canada.  He is married, has two children and four grandchildren.