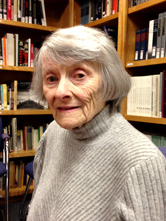 Lore was born in Dec. 1923 in Nuremberg, Germany into an upper / middleclass family, living in the outskirts of the city with parents and a younger brother, in a beautiful new 2-family house in the downstairs apartment and her grandmother upstairs.  They had a large garden, a live-in maid and some kind of young "governess".   This all may sound fancy but at that time it was run of the mill.   She had Jewish and non-Jewish friends, so did her parents.  Until her best friend's parents  told her parents that they couldn't see each other any longer and even the children were included.  That was the first time that she experienced Nazism, without understanding it.
Forward to 11/9/38 Kristallnacht.  Lore's father was able to remain in France where he had gone on business in the summer of 1938. On the night of 11/9  4 or 5 SA men burst into her house, locked her mother, brother and Lore into the room and proceeded to destroy everything, her violin included, piano, curtains, carpets, rugs, clothes, even shoes, cutting pictures, paintings, books, dishes, glassware etc.  Nothing was taken away, only broken.  Every faucet was opened and by the time they left there was water everywhere.  The hallway from the room they were in at the end of it to the front door was piled up with broken dishes and glasses and they were barefoot and in pajamas. They couldn't get out.  Of course the telephone wires had been cut.
They never went back to the house.  Lore, her mother and brother each found a place to stay with different relatives (there was no rhyme or reason to which houses were hit).
She felt they were relatively lucky.  Her uncle was killed that night; he was thrown from his upstairs bed-room to the entrance hall, where he died, her aunt was thrown also but survived, with many broken bones.
At the end of December 1938 they finally got permission to leave Nuremberg  for Paris.  Her mother stayed behind with the aunt who was still in the hospital, whose only 2 sons were in Foreign Legion in Africa. Her father had rented a small furnished apartment.    They were eventually to be shipped to FRENCH "holding camps" in the center of France. At that time women also were assembled and shipped to French camps.  Mothers with children under 15 years of age could stay.  Her brother qualified.  Life went on until June 1940.  June 10th the Germans walked into Paris with many planes in the sky. Everybody who could left Paris.
Lore's story continues with hiding, as a member of the French resistance, then liberation and finding a home in the United States.