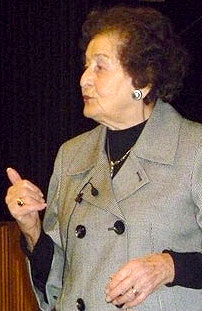 Judy Altmann was born in Jasina Czechoslovakia, which was invaded by the Nazis in 1939. In 1944 she was arrested and transported to Auschwitz concentration camp with her niece where they were selected for work.  From there she was sent to Essen and Gelsenkirchen Labour camps where she remained until March 1945. She survived the "death march" that ended in the Bergen Belsen concentration camp.  Sick with typhus, Judy was barely alive when she was liberated by the British Army in 1945.
Ms. Altmann was given the opportunity to go to Sweden. She lived in Sweden until 1948 at which time she immigrated to the United States.
Judy, who has extensive experience speaking in schools, is a member of the Holocaust & Human Rights Education Speakers Bureau and is Vice President of the Holocaust Child Survivors of Connecticut.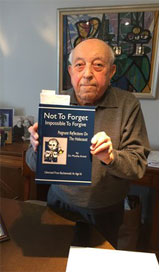 Dr. Moshe Avital was born in Czechoslovakia. During the Holocaust he was imprisoned in 6 concentration camps. He was deported to Auschwitz at age 14 with his entire family, was separated from them, and after much suffering he was liberated from Buchenwald by the American Third Army on April 11, 1945.
After Liberation he was hospitalized for 2 months in a makeshift hospital in Buchenwald. He was sent to Ecouis, a village in Normandy France for recuperation. There he joined the illegal immigration to  the then Palestine. His Ship, which was named the Children of Buchenwald was intercepted by the British navy on the Mediterranean and he was forcefully removed from the ship by the British Forces and imprisoned in Atlit Detention Camp in Palestine.
One night, Moshe Avital was liberated by members of the Hagganah- "A Jewish Underground in Palestine". He later joined the Hagannah and fought in the War of LIberation 1947-1950. He also fought in the 1956 War with the Israel Defense Forces in the Sinai War.
In Nov. 1950 he came to the United States and pursued his higher Academic education at Yeshivah University, graduating with high honors, and earning  a B.A and M.S. in Education, and a PhD in Hebrew Literature.
For 50 years he served in various Educational positions in the United States. Dr. Avital speaks half a dozen languages and is a translator. He was the official Hebrew to English Translator for the ABC Network for the proceedings of the then Egyptian President Anwar Sadat's historic visit to Israel, and the proceedings of the Knesset- Israeli Parliament- in Nov. of 1997.
To date he has published 15 books- half a dozen on the Holocaust
Dr, Avital is a well known author and speaker on the Holocaust. He presents extraordinary testimony, both as a survivor and as an educator, bringing to light many unknown facts of the Holocaust Era. He provides Psychological, Philosophical, and Theological analysis, as well as reflections regarding the perpetrators of the Holocaust.
He is married to Anita Hershman Avital, is the father of 3 daughters and 11 grandchildren.