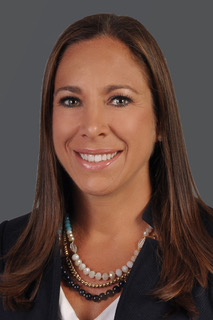 Leah Eisenberg Elected to Holocaust & Human Rights Education Center Board of Directors
White Plains, NY July 28th, 2022– The Holocaust & Human Rights Education Center (HHREC) of White Plains, NY has announced that Leah Eisenberg has joined their Board of Directors. Eisenberg is a partner in Mayer Brown, a New York City Law firm, and she is a member of the firm's Restructuring practice. Leah's practice focuses on counseling clients in default, restructuring, bankruptcy and corporate trust matters, with an emphasis on indenture trustee and creditor representations.
"In furtherance of the Jewish concept of Tikkun Olam, 'repair the world', and as a third-generation survivor, personal and community healing and prevention starts with teaching and learning the lessons of the Holocaust, genocide and human rights. I am honored to be part of the HHREC family and board, where their dedication to teaching and learning these lessons through unique educational programs contributes to the great need for Holocaust and related human rights education and awareness."
Eisenberg has been recognized by The Best Lawyers of America, and was the recipient of the NYIC Women's Division Executive of the Year Award, among other honors. She earned her Doctorate in Law from the Brooklyn Law School, and earned a BA in Politics, Philosophy and Law from Binghamton University. Eisenberg is a graduate student at Kean University where she is enrolled in the Holocaust and Genocide Studies Master's Degree program.
"It is with great pleasure that we welcome Leah Eisenberg to our Board." said Michael Gyory, HHREC Board Chairperson. "She brings a tremendous level of energy and experience to our organization. We are very excited to have her join us in our efforts to promote human rights community here in the greater New York area."