ZAIDA- Award Winning Documentary Film About Holocaust Survivor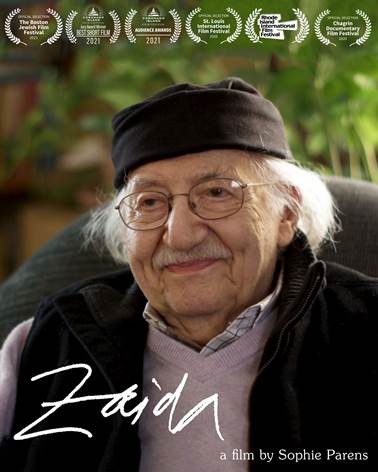 Henri Parens escaped from the Holocaust at the age of 12, and went on to become a globally recognized psychoanalyst, dedicating his life's work to the prevention of prejudice. ZAIDA, the documentary film about his life, made by his granddaughter, has reached audiences across the country, screening at The Chagrin Documentary Film Festival, The Boston Jewish Film Festival, Indy Film Fest, St. Louis International Film Fest, The Twin Cities Jewish Film Festival, The Julien Dubuque International Film Festival, Flickers' Rhode Island International Roving Eye Film Festival, The Jacob Burns Jewish Film Festival, and at The Coronado Island Film Festival, where it won The Best Documentary Short Jury Award, and The Best Documentary Short Audience Award. Zaida has also screened at museums, schools, and community centers across the country.
The short documentary film will be shown first, with comments and Q&A with film Producer and Director Sophie Parens to follow.