Memory Keepers Story Hour: Yonat Assayag, GenerationsForward
Jun 15, 2023 7:00PM—8:00PM
Location
Zoom
Cost Free
Event Contact Millie Jasper | Email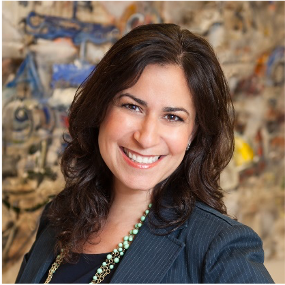 Yonat Assayag is the granddaughter of Holocaust survivors, Helen Gottesman (née Klein) and Alex Gottesman.
Yonat tells the story of her grandmother Helen, who she adoringly called "Bobby." Bobby was born in Strobochova, Czechoslovakia in 1924, where she and her family lived comfortably until the Nazi occupation in 1939. Yonat shares how, at 16, Bobby risked her life to support her family. She and a few friends would remove their yellow stars and sneak aboard a train carrying suitcases filled with meat to sell at a nearby town. On one trip, noticing a police officer eyeing them suspiciously, the girls jumped from the speeding train to avoid getting caught. Yonat goes on to share Bobby's harrowing journey to the Munkacs Ghetto and then Auschwitz, where her mother, grandmother, two sisters, and newborn niece were murdered. Bobby managed to survive on account of her bravery, a bit of "chutzpah," and a lot of luck.
Yonat memorialized her grandmother's story so that she could share it with her own children. But a string of personal antisemitic experiences compelled Yonat to tell Bobby's story beyond her own family in hopes that history will not repeat itself.
Yonat was born in Israel and raised in Beachwood, Ohio. She now lives in New Rochelle, New York with her husband, Lou Arbetter, and their three children, Michael, Sasha and Layla. Yonat is a partner at ClearBridge Compensation Group, where she advises clients on executive compensation and incentive plan design. She received her MBA from NYU Stern School of Business and her BS from Syracuse University.
Yonat is a member of GenerationsForward, a group of second and third generation individuals sponsored by the Holocaust and Human Rights Education Center of White Plains, New York.