Memory Keepers Story Hour: Mindy Nagorsky-Israel, Generations Forward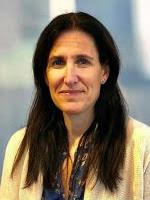 Mindy Nagorsky-Israel is married to the son and grandson of Holocaust survivors. She tells the story of 102 year old Ilse Sundheimer Seelig, her husband's grandmother, and her family, using pictures, historical documents and artifacts that have been found. Ilse grew up in Munich, Germany, a member of multiple prominent Jewish families that had lived in various parts of Bavaria for hundreds of years. Ilse escaped Nazi Germany in late 1938, but she lost her entire immediate family and most of her extended family in the Holocaust.
Ilse did not speak about her lost family in the 68 years following the end of the war and her discovery of their fate until late 2013 when Mindy's then 8 year old daughter asked Ilse to tell the story of her family. This discussion spurred on years of research and writing to find and document the history and fates of family members.