Gloria Lazar, Speaker
Jun 18, 2021 5:00PM—6:00PM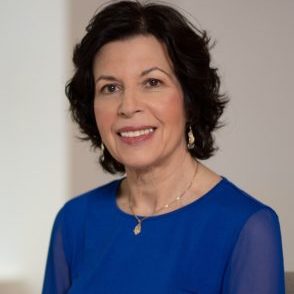 Gloria Lazar tells the story of her father, Arthur, whose courage, determination and cunning were key to his survival after the Nazis invaded his town in southern Poland in September 1939. Gloria's story traces his escape from the Nazis, imprisonment in a Soviet concentration camp, daring leap from a Polish troop train and the remaining years of the war working on a Soviet commune. Arthur broke his silence 35 years after the end of the war and recorded his story as an oral memoir so that his only child would write about his survival and the endurance of the human spirit.
Gloria works in private practice as a speech-language pathologist, public speaking coach and speech writer in Tarrytown. She has an undergraduate degree in English from New York University and graduate degrees from Simmons College and Columbia University. Her father's spirit and strength of character live on in her two grown sons: Ethan, who works as a film producer in New York City and Toronto, and Jason, a business and health care consultant in Seattle.
Gloria has published freelance articles in The New York Times, The Washington Post, The Chicago Tribune, and poetry in literary journals. Her short performance pieces have been presented at the Hudson Valley Center for Contemporary Art. She has completed a young adult novel, Catch A Falling Star, about the uprising of the Warsaw ghetto and is working on a screenplay adaptation. Her screenplay, Djambul, grew out of her father's Holocaust experience.
Gloria is a member of GenerationsForward, a group of second and third generation individuals sponsored by the Holocaust and Human Rights Education Center of White Plains, New York.