From Trauma to Healing: The Inherited Gifts and Challenges of Growing Up in the Shadow of the Holocaust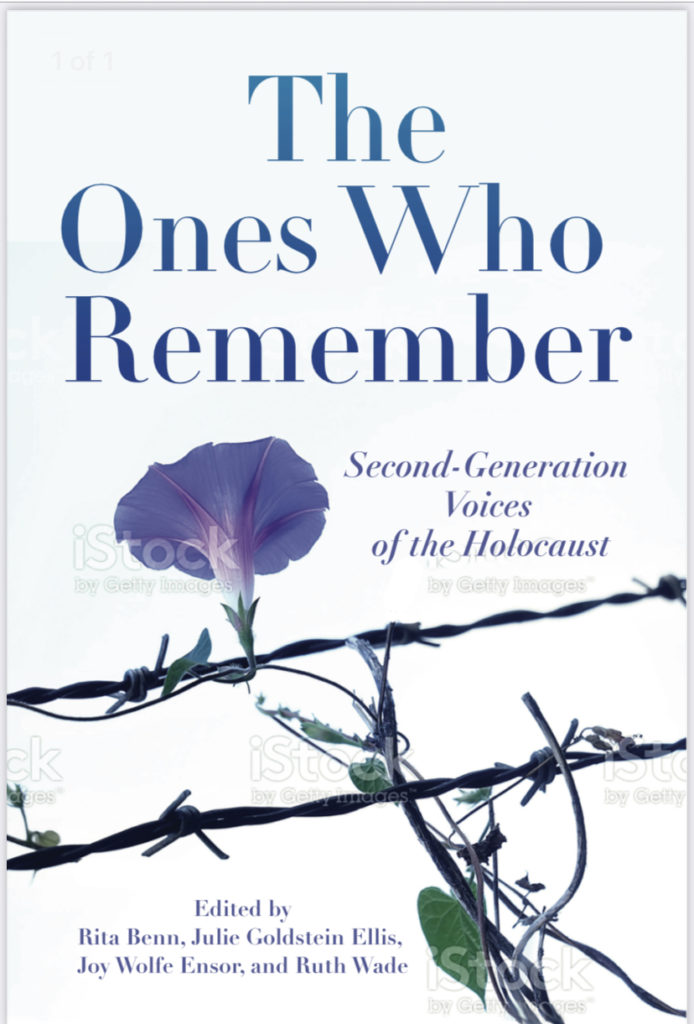 Rita Benn, Joy Wolfe Ensor and Ruth Finkel Wade, three of the editors and contributors to the award-winning book, The Ones Who Remember; Second-Generation Voices of the Holocaust, will share the impact of their Holocaust Survivor parents' experiences on their own lives. A Q& A will follow, encouraging discussion of lived experience, intergenerational transmission of trauma, healing and resilience.
Holocaust Geography
Rita Benn grew up in Montreal, Canada. Her father, Philippe Benn (néPhilippe Allen Benjaminovitsch) and mother Alice (née Zlata Ginas) and families were imprisoned in the Kovno ghetto of Lithuania. Her mother and maternal grandmother were sent to Stutthoff concentration camp, and her father to Dachau concentration camp. Rita's maternal aunt Sara escaped earlier from the Kovno ghetto to fight as a partisan.
Joy Wolfe Ensor grew up in New York City. Her parents were in the Kraków ghetto of Poland. Her mother Henia Karmel, aunt Ilona Karmel and grandmother Symcha (Mita) Karmel were imprisoned in Płaszów, Skarżysko, and Buchenwald, and her father Leon Wolfe in Płaszów, Gross-Rosen and Langenbielau. Joy's father Leon was a founding Board member of the Westchester Holocaust Commission (later renamed the Holocaust and Human Rights Education Center), and her stepmother Rita Rapaport sculpted the Gates of Remembrance in the Garden of Remembrance, the public memorial site created by HHREC. Leon's prisoner number is inscribed on the gate.
Ruth Finkel Wade grew up in Chicago, Illinois. Her father, Sidney "Sevek" Finkel and his family were in the Piotrków Trybunalski ghetto in central Poland near Lodz. He was in slave labor camps in Bugaj and Czestochowa followed by concentration camps Buchenwald and Theresienstadt. Liberated in Theresienstadt at the age of thirteen, he immigrated to the United Kingdom as one of the Windermere Children.
Awards:
GOLD AWARD: Foreword INDIES Gold Winner for Anthologies
SILVER AWARD: Nautilus Award for best memoir describing heroic journeys
FINALIST: Eric Hoffer Montaigne Medal for most thought-provoking book
FINALIST: Eric Hoffer da Vinci Eye Medal for most outstanding cover art
FINALIST: Next Generation Indie Book Awards for best memoir (Adversity/Tragedy)
FINALIST: National Indies Excellence Award for best anthology
The Book
The Ones Who Remember: Second-Generation Voices of the Holocaust provides a window into the lived experience of sixteen different families grappling with the legacy of genocide. Each author reveals the many ways their parents' Holocaust traumas and survival seeped into their souls and then affected their subsequent family lives—whether they knew the bulk of their parents' stories or nothing at all. The book is available through Amazon, Barnes & Noble and independent bookstores. More information can be found on the book's website https://www.secondgenerationvoices.com/