Practice being an upstander: Sociologists report that people who rescued during the Holocaust often reported that altruistic actions were normal to their everyday lives.  Build this habit into your life by doing something kind for someone else during the month.  An act of kindness each day would be a honorable goal!
Check with your local school or public library to discover what genocide resources are needed in its library and provide funding for one or two books.
Attend the virtual William H. Donat Shoah Commemoration on April 8 at 7:30 p.m. which will include a lecture on Muslims Who Rescued Jews During WWII: The Case of Albania. Information and registration is available on our website at William H. Donat Shoah Commemoration.
Learn more about the Rwandan Genocide. April 6 marks the 27th anniversary of the start of this event.  The Kigali Memorial Center offers documentation and survivor testimony of the genocide (http://www.kigalimemorialcentre.org/)  and BBC offers an excellent overview of the events of the genocide (bbc.com/news/world-africa-26917419).  You can also learn how the country is commemorating the genocide from this current article.
Learn about the Genocide Prevention Task Force by visiting the United States Holocaust Memorial Museum at https://www.ushmm.org/genocide-prevention
Visit Genocide Watch's website (http://www.genocidewatch.org) to learn about Dr. Gregory Stanton's framework for examining genocide, the "10 Stages of Genocide", and the recommended preventative steps you can take to stop genocide early.
Learn more about the Responsibility to Protect (R2P), a relatively new doctrine that informs much of genocide prevention today at (https://www.un.org/en/genocideprevention/about-responsibility-to-protect.shtml)
Write or call your member of the House of Representatives and Senate and ask him or her to support the passage of House Bill Resolution 154, the "Armenian Genocide Truth and Justice Resolution." Find your Congressman here:  http://whoismyrepresentative.com
California, Indiana, Minnesota, New Hampshire, New Jersey and Ohio have designated April as Genocide Awareness Month. Find a legislative champion to support designating April as Genocide Awareness and Protection Month in New York.
Support the work of the Holocaust and Human Rights Education Center (HHREC) by making a donation at hhrecny.org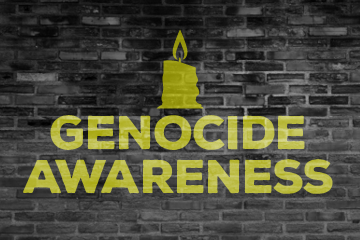 Genocide Awareness and Prevention Month Student Contest
Students are required to create an original project in visual arts, poetry, music, or other media of artistic expression that commemorates some aspect of a genocide which has occurred in the 20th or 21st centuries. Examples include the Armenian Genocide, the Holocaust, the Cambodian Genocide, the Bosnian Genocide, the Rwandan Genocide, the Genocide in Darfur, and many others. Please see World Without Genocide (www.worldwithoutgenocide.org) for a complete list.
Deadline for submission of projects: April 30, 2021.  Projects, with the simple information sheet, need to be submitted by email to jscallero@hhrecny.org
All projects will be evaluated by the Holocaust & Human Rights Education Center's Co-Directors of Education, Steve Goldberg and Julie Scallero.
We will select 3 winners (one for grades 7 and 8, one for grades 9 and 10, one for grades 11 and 12) who will receive a certificate and will have their projects announced on our Facebook and Instagram pages.  Additionally, we will make a donation, on the winners' behalf, to (914) Cares whose mission is to support neighbors in our community who struggle to meet basic human needs: food, clothing, shelter, medical care, and education. This organization has worked tirelessly during the current Covid-19 crisis which has resulted in an increased demand in all of these essential services.
We look forward to viewing your submissions and hope you stay well during these uncertain times.
Questions:
Email Julie Scallero (jscallero@hhrecny.org) or Steve Goldberg (sgoldberg@hhrecny.org)
Genocide is Awareness and Prevention Month 2020
In commemoration of April as Genocide Awareness and Prevention month, we sponsored a special contest last year asking students to create an original project in visual arts, poetry, music, or other media of artistic expression that commemorates some aspect of a genocide which occurred in the 20th or 21st century. We are pleased to report that we received 26 projects from 11 different schools. Winners had donations on their behalf made to the AFYA Foundation, whose mission is to improve global health by rescuing surplus medical supplies and delivering them to underserved health systems around the world. This organization provided medical supplies during the Covid-19 crisis, and one of their senior leaders was a keynote presenter at our Human Rights Institute for High School Student Leaders.
Award Winners and Honorable Mention:
Grades 7- 8 Winner: Ella Grann, Rye Neck Middle School, Original poem on the Holocaust - "Still I Soar"
Grades 9-10 Winners: Taylor Faust, Somers High School Original poem on the Rwandan Genocide - "The Screams" and Eliana Zitrin, Scarsdale High School, Picture Book and Poem on the Holocaust - "Life Changing"
Grades 9-10 Honorable Mentions: Charlotte Swezey, Somers High School, Original Artwork on the Armenian Genocide - "The Red on Everyone's Hands" and Trent Lee and Henry Zhang, Scarsdale High School Collection of Original Newspaper Articles, Political Cartoons on the Jewish Refugee Crisis Fleeing Nazi Germany and Katie Chong, Valhalla High School,Original Poem on the Darfur Genocide
Grade 11-12 Winner: Komol Samrow, Blind Brook High School, Original Poem on the 1984 Sikh Genocide
Grade 11-12 Honorable Mention: Oriel Savir, Scarsdale High School, Interview, Artifacts and Transcript of his Great-Grandfather's Holocaust Experiences
Genocide Awareness and Prevention Month - Why April?
The 20th Century is often referred to as the "Century of Genocide." Unfortunately, this trend has continued into the 21st Century, as this NY Times article about the recent prosecution and conviction of a former Syrian official of Crimes Against Humanity reveals. Many of these genocides either began in April or include significant events which occurred in April.
The Holocaust & Human Rights Education Center would like students to raise awareness about these genocides and remember those who were lost as a result of "man's inhumanity to man."   To this end, we are sponsoring a special student contest.
Many of these genocides began in April:
April 1915
The Ottoman Turkish government began rounding up and murdering Armenian politicians and intellectuals. This was the first step in the extermination of more than a million Armenians.
Adapted by the Holocaust and Human Rights Education Center from NPR News
Days before 26th anniversary of country's genocide, Rwanda finds mass grave that could contain 30,000 bodies
Ignatius Ssuuna
Associated Press  April 6, 2020
KIGALI, Rwanda – Remains were discovered in a valley dam that authorities said could contain about 30,000 bodies more than a quarter-century after the country's genocide in which 800,000 ethnic Tutsi and Hutus who tried to protect them were killed.
Fifty bodies have been exhumed in efforts that are challenged by the East African nation's coronavirus-related lockdown.
Tuesday marks the 26th anniversary of the genocide, but because of the lockdown, the country will follow events on television and social media as gatherings are banned.
Word of the valley dam and the bodies it held emerged as many people convicted in the genocide are being released from prison after serving their sentences and offering new information on mass graves. Other information on the dam came from nearby residents.
"The challenge we face now is that the valley dam contains water, but we are trying to dry it up," Naphtal Ahishakiye, the executive secretary of genocide survivor organization Ibuka, told The Associated Press. The valley is outside the capital, Kigali, in the country's east.
Authorities said the dam was dug years before the genocide to provide water for rice farming.
When graves of genocide victims are discovered, some survivors question whether true reconciliation can be realized if perpetrators of the killings conceal information about where people were buried.
Exhuming bodies during the coronavirus pandemic is very challenging since people cannot gather, Ahishakiye said. "But we try our best so that we give the dead a decent burial."
Radovan Karadzic Sentenced to Life for Bosnian War Crimes
By MARLISE SIMONS for The New York Times
March 20, 2019
PARIS — A United Nations court on Wednesday increased the sentence of Radovan Karadzic, the former Bosnian Serb leader, from 40 years to life in prison for his role in the Bosnian war of the 1990s, reaffirming his conviction on charges of genocide, war crimes and crimes against humanity.
Both the prosecution and the defense had appealed the 2016 result of Mr. Karadzic's trial before the United Nations Criminal Tribunal for the Former Yugoslavia, in The Hague. Mr. Karadzic had asked to be acquitted of all charges.
The prosecution called for a life sentence — a largely symbolic move because Mr. Karadzic, 70 at the time of the verdict, was unlikely to live long enough to serve out his lengthy term. But symbolic or not, the court's decision on Wednesday to raise the penalty drew cheers and applause from Bosnians watching in the gallery.
The five-judge panel decided 3 to 2 that it was "unreasonable and plainly unjust" for Mr. Karadzic to receive a 40-year sentence given his grave responsibility, when some of his subordinates had been sentenced to life for their roles in the same atrocities, particularly the July 1995 massacre in and around the town of Srebrenica. The crimes involved were noted for their "sheer scale and systematic cruelty," the presiding judge said.
The defendant watched calmly as the decision was delivered. This offered a sharp contrast to the tense defendant who heard his first sentence in 2016. Then, Mr. Karadzic, acting as his own lawyer, argued he was a man of peace, driven solely by his desire to protect Serbs. He was so convinced of his innocence that he had packed up his belongings, ready to return home.
In their appeal, prosecutors asked the court for an additional genocide verdict in the case, based on events in seven Bosnian towns where Serbian-backed forces killed tens of thousands, most of them Bosnian Muslims. But the panel, calling them multiple crimes against humanity, rejected that request, which had been the subject of intense debate among lawyers, human rights groups and victims.
During the war, which raged from 1992 to 1995, Mr. Karadzic was the president of Republika Srpska, the region that tried to break away from Bosnia, where violence carried out by the dominant Serbs forced out much of the Croat and Muslim population.
His trial, followed by the three years of appeals, was the most important in the 23-year history of the United Nations tribunal, and was widely seen as a test of whether the modern international criminal justice system could impose accountability on wartime leaders.
The proceedings thoroughly investigated the bloodiest conflict in Europe since World War II, which tore apart Yugoslavia, ravaged several of the smaller nations that emerged from it and left more than 100,000 people dead. Among the Balkan combatants — Serbia, Bosnia, Kosovo and Croatia — millions of people were displaced, many of them forced from their homes in campaigns of ethnic cleansing.
The tribunal has tried many figures for crimes in the wars that broke up Yugoslavia. Mr. Karadzic and Gen. Ratko Mladic, the former Bosnian Serb commander, are the most senior figures to be convicted. Slobodan Milosevic, the Serbian president whose extreme nationalism instigated and enabled the bloody conflict, died in 2006 in his cell in The Hague before the end of his trial.
The genocide conviction of Mr. Karadzic dealt with the Srebrenica massacre, when 8,000 Bosnians, mostly men and boys, were rounded up and systematically murdered.
Members of the Mothers of Srebrenica, an organization of survivors of Srebrenica and a nearby village, Zepa, were present at The Hague on Wednesday.
At the Potocari Memorial Center, close to the scene of the Srebrenica massacre, local residents, including relatives of the victims, gathered to watch the tribunal's result through an online video stream.
The appeals were little covered by the news media in Serbia, where The Hague's tribunal is widely viewed as anti-Serb and many Serbs see Mr. Karadzic as a hero.
Serb leaders in Bosnia denounced Wednesday's decision as proof of the court's bias, claiming that the tribunal was not interested in crimes committed against Serbs.
Serge Brammertz, the chief prosecutor, said in a statement: "Opponents of the tribunal will claim that this judgment is a verdict against the Serbian people."
"I reject that in the strongest terms," he said. "Karadzic's guilt is his, not his community's."
Peter Robinson, the lead defense lawyer, said that Mr. Karadzic asked him to convey that "the appeals chamber has whitewashed an unfair trial and an unjust verdict" and that he would continue to fight.
Mr. Robinson, a veteran American lawyer, said that Mr. Karadzic often told him that "the judges did not understand what really happened."
"Dr. Karadzic spent the past year in his cell, commenting on each paragraph of the 2,400-page judgment," the lawyer said.
Mr. Karadzic's looming transfer from the United Nations jail in The Hague could mark the end of a saga that began in Montenegro where he was born, continued in Sarajevo where he studied and worked as a psychiatrist and then in Pale, Bosnia, where he led a Serbian breakaway statelet.
At the war's end he went underground, eventually moving to Belgrade where he grew a bushy beard and long hair and posed as a faith healer until his arrest in 2008.
The appeals ruling is final. Mr. Karadzic will serve his sentence in one of the European countries that have agreed to take tribunal prisoners.
"The measure of success or failure of this verdict will not be in where Radovan Karadzic makes his residence between now and his death, or in what a gaggle of self-seeking politicians will do in the next week or month," said Eric Gordy, professor at the School of Slavonic and East European Studies at University College London.
"What will matter about the verdicts will be the documentary record that they establish," he said by telephone.
But the overriding question to Mr. Gordy, who has long followed the tribunal's trials, is whether the records provide a ground for discussion and conciliation among people who have been taught "that they always need to think of themselves as victims and of the people around them as their enemies."
Una Hajdari contributed reporting from New York.
Radovan Karadzic, a Bosnian Serb, Is Convicted of Genocide
Marlise Simons, The New York Times on Thursday, March 24, 2016 at 12:00:00 am
THE HAGUE — Radovan Karadzic, the former Bosnian Serb leader, was convicted of genocide, war crimes and crimes against humanity by a United Nations tribunal on Thursday for leading a campaign of terror against civilians in the deadliest conflict in Europe since World War II.
Mr. Karadzic, 70, was sentenced to 40 years in prison for his role in lethal ethnic cleansing operations, the siege of Sarajevo and the slaughter of 8,000 Muslim men and boys in Srebrenica in 1995, in proceedings that were likened to the Nuremberg trials of former Nazi leaders.
The trial here was the most important in the 23-year history of the United Nations International Criminal Tribunal for the Former Yugoslavia, and a defining test for the entire system of international justice, human rights advocates said.
"Twenty-one years after Karadzic was indicted, this verdict is a forceful manifestation of the international community's implacable commitment to accountability," the United Nations human rights chief, Zeid Ra'ad al-Hussein, said in a statement.
The conviction offered a note of closure to the bloodiest European conflict since World War II, a civil war that tore apart the former Yugoslavia and left more than 100,000 people dead. The main Balkan combatants, Serbia, Bosnia, Kosovo and Croatia, are now themselves members or aspiring members of the European Union, an achievement for European unity at a time when the bloc faces severe strains over migration and economic stagnation.
While the tribunal had convicted many lesser figures of war crimes, it had never prosecuted as senior a figure as Mr. Karadzic. Slobodan Milosevic, the Serbian president whose extreme nationalism instigated and enabled much of the fighting, died in March 2006 in his cell in The Hague before the end of his trial before the United Nations tribunal. Ratko Mladic, who was Mr. Karadzic's military chief during the campaign, is being tried separately.
Mr. Karadzic was convicted of genocide for the Srebrenica massacre, which aimed to kill "every able-bodied male" in the town and systematically exterminate the Bosnian Muslim population there.
He was also found guilty of persecution, extermination, deportation, forcible transfer and murder in connection with a campaign to drive Bosnian Muslims and Croats out of villages claimed by Serb forces during the country's civil war from 1992 to 1995. He avoided conviction on a second count of genocide in seven Bosnian towns, but was found guilty in that case on a reduced charge of extermination.
In addition, Mr. Karadzic was found to have been "instrumental" in a campaign of sniping and shelling that terrorized the civilian population of Sarajevo, the Bosnian capital. And he was convicted of leading the seizure of United Nations employees as hostages, to obstruct NATO from carrying out airstrikes on behalf of besieged Bosnian Muslim civilians.
Mr. Hussein said the tribunal's judgment "strips away the pretense that what he did was anything more than political manipulation, and exposes him for what he really was: the architect of destruction and murder on a massive scale."
Peter Robinson, an American lawyer who was Mr. Karadzic's chief legal adviser, said his client "was disappointed and astonished by his conviction and the judges' reasoning, and he asked us to appeal his sentence."
Relatives of the victims were disappointed as well, but only because they felt the sentence was too lenient. Kada Hotic of Srebrenica, who said she had lost her only son, husband, cousins and all the other men from her family, cried with anger.
"He got the verdict of an ordinary soldier," she said. "He should have had a life sentence. He is guilty of all the killings in Bosnia because he pushed all sides to go to war."
Some critics complained that Mr. Karadzic could conceivably walk out of prison one day. Typically, those convicted at the tribunal have served two-thirds of their sentences. With a credit of eight years for time served, that means he could be freed after a little more than 20 years.
The atrocities in Bosnia were a source of lasting regret for President Bill Clinton, and spurred his administration to broker the Dayton peace accords and, subsequently, support the NATO bombing of Belgrade in 1999 to prevent similar atrocities in Kosovo.
The decisions were read out by the presiding judge, O-Gon Kwon of South Korea, who took more than an hour as he calmly but precisely recounted the series of atrocities Mr. Karadzic was accused of.
His brother Luka and other relatives watched from the public gallery during the long reading. The defendant looked tense, tapping his hands and feet beneath his desk.
The judges took more than a year to deliberate — after being in session for nearly 500 days, spread out over four years — reflecting the ambition of the prosecution and the complexity of conducting a criminal trial covering a lengthy civil war.
Mr. Karadzic acted as his own lawyer in the proceedings, portraying himself as a man of peace who was driven solely by his desire to protect Serbs.
In his closing statement, he said that he took "moral responsibility" for crimes committed by Bosnian Serb "citizens and forces." But he denied having ordered killings and said he was not aware that a massacre would take place at Srebrenica.
During the trial, to the amazement of experts following the case, he described himself as a "true friend to Muslims" who had tried to make them feel safe, despite his fiery speeches leading up to the war.
He mounted a zealous defense, bringing 238 witnesses to attest to his innocence. He based his defense on the premise that the Bosnian war broke out because Serbs had no choice but to defend themselves against a Bosnian Muslim separatist regime that intended to create an Islamic state.
The prosecution contended that Mr. Karadzic was the commander of a separatist Serb government bent on removing all non-Serbs from all areas of Bosnia that had been traditionally Serb.
Prosecutors presented electronic intercepts, written orders, video recordings and a long line of witnesses — fighters, politicians, peacekeepers, survivors of prison camps and rape victims — to demonstrate his central role in the conflict.
In a policy that came to be known as ethnic cleansing, hundreds of thousands of Muslims and ethnic Croats, largely Roman Catholic, were driven from their villages, their homes looted and mosques and churches demolished.
In 1992, the height of the ethnic cleansing campaign, close to 45,000 people were killed or missing, almost half of the 100,000 who died in the Bosnian war.
Men and boys were held in concentration camps, where prosecutors said thousands were tortured, were killed or died of starvation, and women were said to have been raped and used as sex slaves.
Mr. Karadzic was arrested on a public bus in 2008, more than 10 years after effectively vanishing. He had taken a new identity, posing as a faith healer and using the alias Dr. Dragan Dabic. He had grown a bushy beard and had long hair fastened in a topknot. His arrest led to the creation of yet another persona — zealous defense lawyer, who worked long nights in his cell to prepare his case.
The son of a modest family in Montenegro, he began his career as a psychiatrist and a poet who showed no political leanings.
But as Communism collapsed in Yugoslavia and the Soviet Union and the Warsaw Pact came undone, he joined the Serb nationalists and became a populist demagogue, delivering bombastic, jingoistic speeches to incite Serbs.
On Thursday in Belgrade, the Serbian capital, a nationalist group protested the sentence, saying Mr. Karadzic was convicted only because he was a Serb.
Natasha Kandic, a Serbian human rights lawyer, called the verdict just and said she hoped it would be an "obstacle for future revisions of history, for what really happened" in Bosnia.
Nick Cumming-Bruce contributed reporting from Geneva.
A version of this article appears in print on March 25, 2016, on page A8 of the New York edition with the headline: Bosnian Serb Leader Karadzic Convicted of Genocide and War Crimes.
© 2016 The New York Times Company