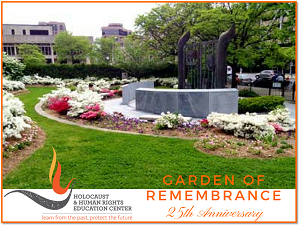 25th Anniversary of the Garden of Remembrance
The Garden of Remembrance was dedicated by the Westchester Holocaust Commission and Foundation (now the Holocaust and Human Rights Education Center) on October 4, 1992, located in front of the Michaelian County Office Building, at 148 Martine Avenue, White Plains, Westchester, New York.
The Gates of Remembrance were created in 1992 by Rita Rapaport to memorialize the suffering and death of millions during the Nazi era from 1933 to 1945.
The posts supporting the Gates look blown by the wind. They evoke memories of the flames of the chimneys of the crematoria. To some they will resemble the Hebrew letter Vov, which represents the number six, for the six days of creation or the six million Jewish victims. The Gates themselves may symbolize the bars of a prison or the entrances to concentration camps. Or, are they the Gates of Heaven or Hell? Do they lead to freedom or bondage?
The five plaques on the Gates depict images meaning Zachor or Remember, torn fabric bearing a prisoner's number; barbed wire representing concentration camps; the Bible in flames commemorating Kristallnacht, when the Holocaust began; and the broken tablets of the Ten Commandments.
As we stand before these Gates, we are called upon to REMEMBER what we must NEVER forget.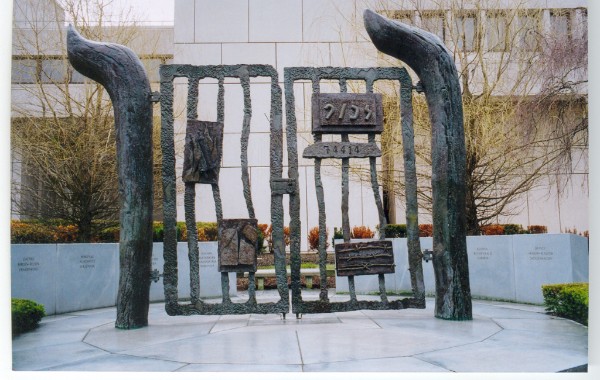 The Garden walls are inscribed with the names of 26 places in which Jews and other innocent victims of Nazi persecution were tortured and murdered. These names represent only some of the many hundreds of locations where recorded and unrecorded atrocities occurred.
Drancy
Krakow-Plaszow
Sachsenhausen
Klooga
Buchenwald
Sobibor
Jasenovac
Lwow-Janowska
Stutthof
Belzec
Ravensbruck
Babi-Yar
Ponary
Westerbork
Transnistria
Treblinka
Chelmno
Theresienstadt
Mauthausen
Birkenau
Auschwitz
Majdanek
Dachau
Bergen-Belsen
Oranienburg
Gross-Rosen